Swinburne Sarawak inked MoA with SAINS to set up R&D programme
April 12, 2017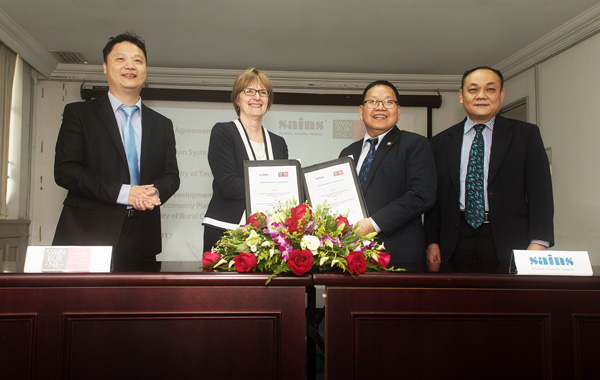 The partnership will see the development and implementation of digital platform that could enhance the socio-economy of rural communities.
KUCHING – Swinburne University of Technology Sarawak Campus has partnered Sarawak Information Systems Sdn Bhd (SAINS) to develop and implement digital platform that could enhance the socio-economy of rural communities in Sarawak.
A Memorandum of Agreement on this was signed by Swinburne Sarawak's Deputy Vice-Chancellor and Chief Executive Officer Professor Janet Gregory and SAINS' Chief Executive Officer Dato Teo Ten Hiong, and witnessed by Chief Minister Datuk Amar Abang Johari Tun Openg on March 28 2017.
The agreement, worth RM 2 million, will focus on research and development in three key areas –healthcare, digital transportation services and eco-tourism.
In healthcare, an application will be developed to collect data from simple medical devices or medical practitioners stationed in rural communities. The data collected will be analysed to uncover the general health of the community.
The programme will also develop digital services and business models to enable communities to share their transportation schedules and needs with each other. this system hopes to encourage the efficient movement of goods and services between communities and boost the rural economy.
In eco-tourism, it will develop a new application that will consolidate information from local communities about services and places of interest and thereby encourage their participation. Communities will also be able to add their own folklore, legends and natural hotspots to the platform.
Associate Professor Patrick Then, Director of Swinburne Sarawak's Research Centre for Digital Futures who spearheads the R&D program said, "With the basic requirements in talents and technologies established, the opportunity is now present to create unique digital services for our rural communities".
As a university of technology, Swinburne Sarawak has been guiding many young talents in the digital space through its ICT and multimedia programmes.
 "We now look forward to playing our role in close partnership with our industry partner to bring the positive impact of digital technologies to the rural communities," deputy vice-chancellor Prof Janet Gregory said.
Swinburne and SAINS have collaborated successfully in the past. SAINS has also experimented with various technologies, including satellite communication, to provide telecommunication access in hard to reach rural places in Sarawak.
The ceremony was held at Wisma Bapa Malaysia and attended by Sains chairman Datuk Patinggi Tan Sri Dr George Chan, deputy chairman Tan Sri Datuk Amar Dr Abdul Aziz Husain, as well as Swinburne Sarawak Board of Directors chairman Tan Sri Datuk Amar Morshidi Abdul Ghani.