Swinburne Sarawak partners JobStreet.com in launching a salary guide for East Malaysia
October 6, 2017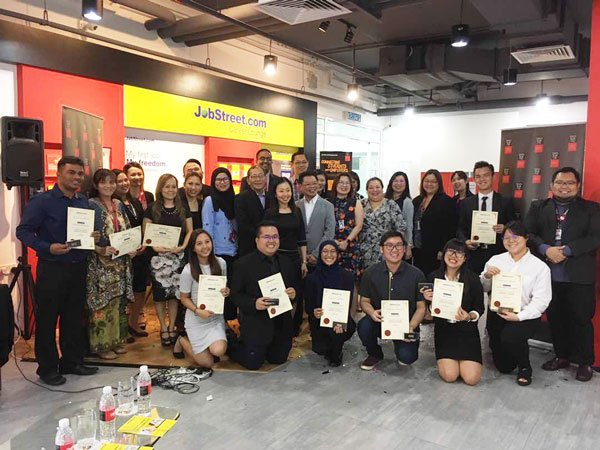 The Swinburne Sarawak-JobStreet.com partnership aims to help students understand the job market better.
KUCHING – Graduates in Swinburne University of Technology Sarawak Campus now have a salary guide to help them gauge the average salaries offered by companies in order to understand the job market better.
Partnering JobStreet.com, Asia's leading portal in this endeavour, the comprehensive Salary Guide for Sabah and Sarawak is designed to given an indication on what the average salaries offered by companies in Sabah Sarawak are.
Held at Swinburne's JobStreet.com Career Lounge, the event was officiated by Haji Hussain Taiban, University Registrar and Director Student Engagement of Swinburne University of Technology and Simon Si, the Head of Regional Communications of JobStreet.com.
Swinburne's JobStreet.com Career Lounge will also serve as a one-stop centre that provides job opportunities of high quality for students and graduates. This is achieved by providing current and relevant job market information, application advise and interview tips.
 "This partnership will help facilitate our student's professional career development," says Haji Hussain.
"Students will also have the opportunity to improve their employability outcomes through resume writing, guidance and interview practise among others."
"Since its establishment, Swinburne has dedicated itself towards producing graduates who are job ready. Through this partnership, we will be providing our students and graduates greater access to employment opportunities," he added.
According to Simon Si, the guide is designed to give an indication of what the average salaries offered by companies in Sarawak and Sabah are to help graduates understand the job market better.
"The actual salaries for various positions, of course, varies based on many factors such as market demand and supply, the academic grades and acquired skills of the candidates and the compensation and benefit policies of the hiring company," he said.
Si pointed out that, in a survey conducted by JobStreet.com last year, employers were asked why it was difficult for fresh graduates to get hired and the top cited reason by 68% of respondents was that fresh graduates ask for unrealistic salaries and benefits.
"A previous JobStreet.com survey disclosed that 60% of the fresh graduates expect a salary of RM3,500 for their first job while 30% want to be paid as high as RM6,500 in order to live comfortably."
Swinburne Sarawak's overall graduate employment rate is over 93% with several of its Business and Engineering programs reporting a 100% employment rate. The remaining graduates have mostly started their own businesses or are pursuing postgraduate studie.  
Also present at the launch were Mr Edmund Teh, Employability Advisor (Engagement & Partnership) JobStreet.com, Associate Professor Lee Miin Huui, Dean for the Faculty of Business and Design, Associate Professor Su Hieng Tiong, Dean for the Faculty of Engineering, Computing and Science, members of Swinburne Sarawak's Executive Group, staff and Swinburne's JobStreet.com Student Ambassadors.