Swinburne Sarawak's new Centre for Digital Futures offers short courses in digital marketing
August 11, 2017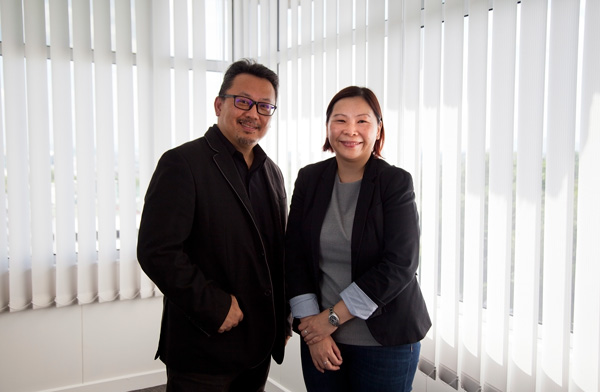 Dr. Bertha Chin from Swinburne Sarawak (right) and James Ho, the Co-Founder of ClickAcademy Asia will be sharing digital marketing best practices with the short courses participants.
KUCHING – Swinburne Sarawak recently unveiled its new Centre for Digital Futures, with the goal of bringing researchers from different disciplines under one roof to facilitate change, to make unlikely partners so that they can create something new.
"With digital technologies getting more sophisticated it is merging the boundaries between physical and digital. Inspired by that, we want to disrupt the traditional divisions of disciplines and be research or research impact focused" says the Director of the Centre, Associate Professor Patrick Then.
"Sarawak is changing; its ambition is to move towards a digital economy. But for that to be sustainable, talent needs to be nurtured and that is where universities should play a role", he adds.
The Centre is focused on applied research, research which has practical daily applications.
Swinburne Sarawak is currently researching  in the areas of predictive healthcare, intelligent farming, and using mobile technologies to preserve indigenous knowledge and heritage.
"While this work focuses on being a game-changer for the industry, we also want to have an immediate impact. Teaching is our biggest strength, so we've teamed up with ClickAcademy Asia to offer short courses in digital marketing" says Then.
ClickAcademy Asia has been providing corporate training in the areas of digital marketing and advertising since 2011 and is a Google Partners Academy in Malaysia and Singapore.  
According to Then, Swinburne Sarawak's  expertise complements ClickAcademy Asia's, where each will develop something new for Sarawak.
ClickAcademy Asia has extensive experience in professional training in digital marketing, while we are good at content creation. So it really is about bringing industry expertise, people who have the practical knowledge with people who can think outside the box and nurture talent," he reiterates.
Swinburne's newest course is the Social Media major/minor which teaches undergraduate students content creation and publishing across platforms.
Dr. Bertha Chin, the course coordinator for the subject says it was developed to be similar to an undergraduate course but aimed primarily at professionals who will take time out from  work to  learn more on the subject.
"So it would focus on marketing, sales and content in a condensed version," She explained.
Dr. Chin taught media theory, advertising and digital culture at a couple of universities in the UK before joining Swinburne Sarawak.
"The short course gives people the tools and the know-how to go further in digital marketing. They get a thorough idea of best practices where we will help them develop a plan for their work."
Courses in content marketing, digital marketing, facebook marketing, SEO and social media marketing will be offered for the university's September intake, while more courses around google adwords and google analytics are planned for next year.