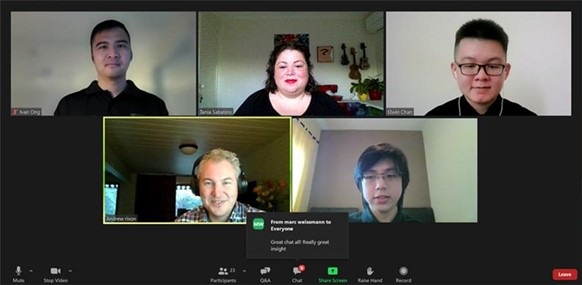 KUCHING – The Swinburne Actions for Sustainable Impact (SA4SI) team recently hosted the second episode of its Virtual Chat series in its responsibility programme aimed at promoting awareness on profile actions of the United Nations Sustainable Development Goals (SDGs).
Launched in 2020, the SA4SI sustainability platform brings together students and staff from both Swinburne's Melbourne and Sarawak campuses in a collaborative project between the Business School in Hawthorn, and the Faculty of Business, Design and Arts, Swinburne Sarawak. The programme seeks to inspire sustainable actions in ways that the community can contribute in daily lives or as part of their learning activities.
Themed '5Rs Challenge – Do You Have What It Takes to Be A Sustainability Champion?', the second episode of the ongoing virtual series explored the 5Rs of sustainability namely 'Refuse, Reduce, Reuse, Repurpose, and Recycle' where the panellists provided their personal perspectives on each of the 5Rs.
The episode featured representatives from Swinburne Melbourne including Executive Assistant to the Dean of School of Business, Law, and Entrepreneurship Tania Sabatino, lecturer Dr Andrew Rixon, and students Ivan Ong and Darren Sim. Swinburne Sarawak was represented by Bachelor of Computer Science student Elwin Chan.
During the conversation, Sabatino opined that sustainability could be the spark of creativity needed to make a positive change in life, drawing on the analogy that being sustainable in our lives could have a ripple effect that favourably impact the community.
Meanwhile, Ong emphasised the importance of responsible decision-making on the 'Refuse' idea to keep in check our shopping impulses while purchasing products we may not need in our lives.
"If you are unable to refuse a product, reducing your usage would be the next best step. By lowering the consumption of waste-producing goods, we would help diminish items from ending up in the trash or recycling bin," he said.
Highlighting on the issue of recycled waste, Dr Rixon remarked that it is difficult to foresee where our waste ends up, as recycling plants may very likely be using them for other purposes such as landfills.
"Greater accountability in waste management in the home is needed. As individuals, we should take action to reduce our waste to avoid creating such environmental risks," he said.
The event concluded with a call-to-action to all attendees to be part of the Swinburne 5Rs Challenge and present their 5Rs initiatives in the form of a creative poster, video, or written submission to demonstrate how they are sustainability champions in their own homes.
Swinburne is a signatory to the University Commitment of the 17 SDGs outlined by United Nations in September 2015, constituting a shared global framework of development priorities by 2030. Signatory universities play a vital role in achieving the SDGs through their teaching to equip the next generation of leaders, innovators and thinkers to understand the critical global challenges facing the world.
Future episodes for the SA4SI Virtual Chat series will centre around the themes of water conservation, green planning, and sustainable gardening. For more information about SA4SI, visit www.facebook.com/SA4SI/ or email to SA4SI@swin.edu.au.
For more information about Swinburne, visit its website www.swinburne.edu.my, Facebook page (@swinburnesarawak), Instagram (@swinburnesarawak), Twitter page (@Swinburne_Swk) or YouTube channel (Swinburne Sarawak).