Swinburne student all geared up to compete in IET PATW Asia Pacific Final
May 28, 2019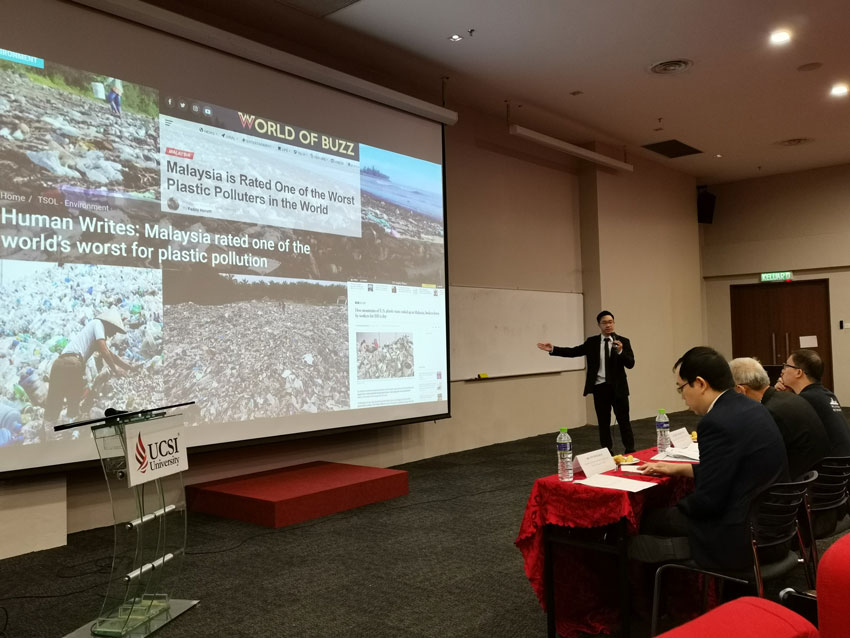 Bong delivering his presentation 'Plastic as a source, not a waste' to the panel of judges at UCSI University, Kuala Lumpur.
KUCHING – A Swinburne student's confidence and enthusiasm have earned him the honour of representing Malaysia at the IET Present Around the World (PATW) Asia Pacific Final in Hong Kong this August.
Present Around The World is a global competition for young professionals and students aged 18 to 30 within the field of engineering to develop and showcase their presentation skills. Organised by The Institution of Engineering and Technology (IET), the competition requires the participants to deliver a 10-minute presentation on any engineering or technology related area with the objectives to enhance their knowledge, develop their presentation skills and increase their profile.
At the National Final recently held at UCSI University, Kuala Lumpur, second-year student majoring in electrical and electronics engineering Paul Cornelius Bong impressed a panel of three judges to bring home the champion title and RM500 in prize money.
Bong pitted against other finalists from University of Southampton Malaysia Campus, Taylor's University, UCSI University, Multimedia University Melaka Campus, MAHSA University, Universiti Tunku Abdul Rahman, and Universiti Tenaga Nasional.
The panel of judges included Dr Yew Weng Kean, Assistant Professor at Heriot Watt University; Ts. Eur Ing. Ir. Jimmy Fam Deng Fong, IET Malaysia Main Committee member 2018/2020; and Ir. Chris Chew Shee Fuee, past president of The Electrical and Electronics Association of Malaysia.
Delivering his presentation on 'Plastic as a source, not a waste', Bong spoke on the potentials of tapping into plastic waste to produce plastic concrete. Motivated by the environmental crises resulting from plastic waste, Bong hopes that his idea would inspire the use of plastic concrete in building construction, especially in Malaysia where the country is known as one of the world's worst plastic polluters.
Commenting on his participation, Bong said the experience has been an amazing one as he was able to share his ideas and compete among other admirable presenters. He looked forward to bringing the knowledge he learned onto the next level and to pick up more skills from other professionals in the Asia Pacific leg of the competition.
"Everyone was brimming with confidence and exuded the true meaning of showmanship. The presenters had us hanging onto their every word and filled the hall with laughter, a difficult feat to pull off when under the pressure of countless watchful eyes," he said.
Bong added that he was thankful for the guidance provided by his supervisors namely Swinburne's Deputy Head of School of Engineering Dr Chua Hong Siang, senior lecturer from School of Foundation Studies Christina Yin, and School of Information and Communications Technologies lecturer Dr Mark Tee Kit Tsun, who helped him prepared for the competition.
For more information about Swinburne, visit its website www.swinburne.edu.my, Facebook (@swinburnesarawak), Instagram (@swinburnesarawak), Twitter (@Swinburne_Swk) or YouTube channel (Swinburne Sarawak).