Swinburne students build new home as part of social enterprise
August 23, 2019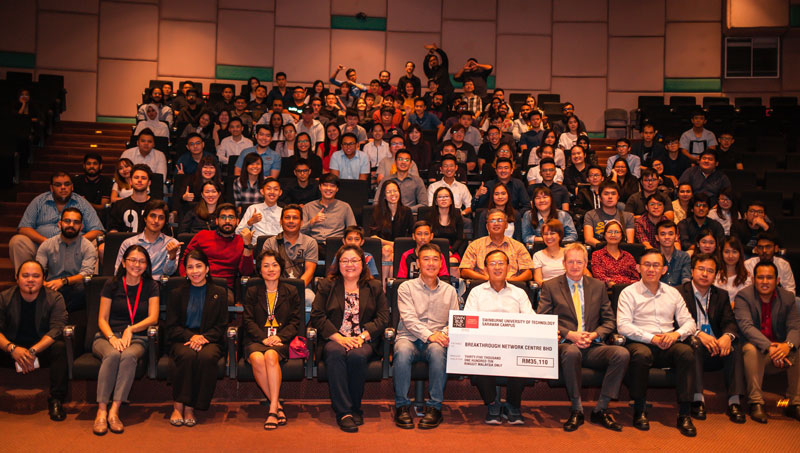 Professor Wilson and Lau (front row, 4th and 5th right) with Swinburne staff and students involved in the Social Innovation Project.
KUCHING – Over 115 students from Swinburne were involved in constructing a single-storey house for the Stampin Resettlement Scheme, as part of a Social Innovation Project study unit.
The six-week study unit provides students with opportunity to experience the work of a social enterprise and gain fuller understanding of the operations, management and leadership required within social enterprises.
Through a partnership with Breakthrough Network Centre Berhad, a non-profit organisation based in Kuching, the students completed the consultancy project aimed at developing and sustaining a pool of committed volunteers to support youth from low-income and single-parent families.
The Social Innovation Project unit was introduced in 2014. Apart from collaborating with Breakthrough, students of the university have also engaged in social projects with Habitat for Humanity Malaysia (2014 – 2015) and Wishesland (2016).
Previous collaborations with Breakthrough involved the construction of a storehouse for Sarawak Cheshire Home in 2017 and a single-storey house at Stutong Baru Resettlement Scheme in 2018. For these projects, Breakthrough contributed technical expertise in structural construction and design, on-site student supervision, sourcing of additional funding to cover construction costs, and delivery of lectures on social enterprise.
In addition to the fieldwork activity, the students also worked on two consultancy projects for Breakthrough that required them to explore issues and challenges faced by teenagers and women living in poverty, as well as proposed programmes to support education needs of teenagers and the financial empowerment of women in the Stampin community.
Third-year international business student Jordan Chang, who chose to take the elective unit after hearing good reviews of it from Swinburne's Discipline Leader of Bachelor of Business (Non-Accounting/Finance) Dr Voon Mung Ling, commented that the fieldwork was an eye-opening experience for him.
"Whether as a student, lecturer, manager or Deputy Vice-Chancellor, everyone got to work together as a team regardless of our status," said Chang.
Fellow student Ferick, a second-year international business student from Indonesia, said the most rewarding experience of the project was being able to voluntarily help others while learning to build a house.
"Although the site work was hot and tiring, it taught us that it's not always about how much you are getting paid for. Helping to build a home for a family gives us a deeper sense of appreciation."
"As a business student, I was not exposed to what goes into building a house. However, working with the engineering students gave us a chance to learn new things as they guided us on the building process such as mixing cement and sand," added Ferick, who is also the President of Persatuan Pelajar Indonesia Sarawak.
During the mock cheque presentation ceremony held at Swinburne's Lecture Theatre recently, the university also made a donation of RM35,110 to Breakthrough. The ceremony was attended by Swinburne's Deputy Vice-Chancellor and Chief Executive Officer Professor John Wilson, Director of Breakthrough Network Centre Berhad Lau Yeo Koo, Swinburne's Executive Group members, lecturers and students.
Addressing the crowd at the ceremony, Professor Wilson emphasised on Swinburne's mission in creating memorable student experiences.
"For students who take up the Social Innovation Project unit, it would serve as a significant memory for you in finding your bigger purpose when you leave Swinburne and out making a big difference in the world," said Professor Wilson.
Meanwhile, Lau expressed his gratitude for the partnership with Swinburne and its students in their effort to help the community.
"It is wonderful to see the things which can be done all in the period of six weeks by putting our efforts together. I believe this has been a very real and meaningful experience for the students to go through in the context of learning outside a classroom," opined Lau.
Established in 2008, Breakthrough is a non-profit organisation that provides welfare support to persons with limited means and resources. Its key areas of service are home building for the needy, youth centre, family care and education.
For more information about Swinburne, visit its website www.swinburne.edu.my, Facebook page (@swinburnesarawak), Instagram (@swinburnesarawak), Twitter page (@Swinburne_Swk) or YouTube channel (Swinburne Sarawak).