Swinburne Students Build Storehouse for Sarawak Cheshire Home
August 1, 2017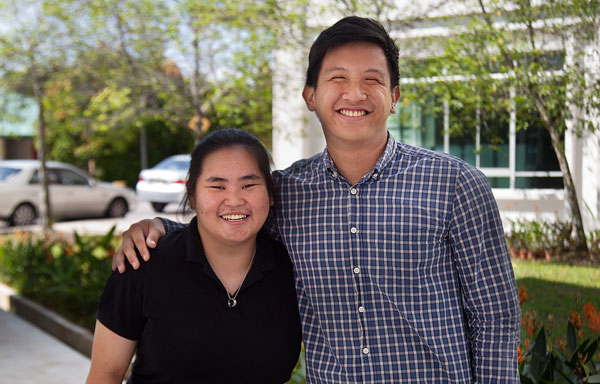 Joyce Teo and Lee Tet Sean…. The unit gave us the opportunity to learn new skills while giving back to the society
KUCHING – One hundred seventeen students from Swinburne University of Technology, Sarawak Campus, participated in constructing a storehouse for Sarawak Cheshire Home, as part of a Social Innovation Internship study unit.
The study unit aims to provide opportunity for students to experience the work of a social enterprise and gain fuller understanding of the operations, management and leadership required within social enterprises.
The construction of the storehouse was supported by Breakthrough Network Berhad, a local community-based non-profit organisation, which provided technical expertise in design, costing and procurement of materials, as well as on-site supervision of work. In addition to participating in the construction of the storehouse, the students also provided consultation for enhancing the Cheshire Home's website interface, as well as developing a volunteer recruitment database for Breakthrough Network's Hub Youth Centre.
This is the fourth such project that students enrolled in the Social Innovation Internship unit have been involved with. Previously students have worked with the Habitat for Humanity, and Wishesland Centre. Through such projects, students are able to apply the knowledge they gained to real world challenges while enhancing their capacity in entrepreneurial practice.
"It was hard work but we also have so much fun while building the storehouse," said Joyce Teo, a fourth year mechanical engineering student.
Having to spend many hours in the heat while doing manual labour was certainly something new to many of us but it was also a humbling experience because we were required to work as a team, she added.
"We also learnt how to handle mechanical equipment properly, which comes in handy especially for engineering students," Joyce said.
The 6-week program, which will be completed in the first week of August, aims to enrich the learning and teaching of students while giving the university and its students the opportunity to work with a not-for-profit organisation on projects that benefit the community.
For Lee Tet Sean, taking up the unit was, "a great way to show support to Sarawak Cheshire Home and a great way to get out into the community and learn new skills."
The 22-year old from Petaling Jaya in Selangor was excited for the opportunity to contribute to the Kuching community. "I have volunteered for an international NGO before so to be able to contribute to the community where I am now is really gratifying," he said.
During the storehouse mock key handover ceremony held on Swinburne Sarawak's Lecture Theatre recently, the Australian university branch campus also made a donation of RM28,500 to the Sarawak Cheshire Home.
According to Professor Janet Gregory, the Deputy Vice Chancellor and Chief Executive Officer of Swinburne Sarawak, "The Social Innovation Internship study unit prepares students for skills such a teamwork, social entrepreneurship as well as to understand the operations and management required to run a social enterprise."
Swinburne Sarawak has previously worked alongside Habitat of Humanity Kuching Affiliate and Wishesland Centre where students built a home and a therapeutic garden respectively.
These hands-on experiences are a learning opportunity for students and a big impact for them to learn practical skills whilst helping the community, she said.
In his speech, Breakthrough Network Centre's Director, Lau Yeo Koo expressed his gratitude and admiration to the students as they were able to construct a building in just six weeks. He hoped that the project serves as a good learning experience to the students and was happy that the collaboration has helped strengthen partnership between university and NGO for the betterment of the community.
The Cheshire Home was represented by its President, Dato Sri Ang Lai Soon and committee members.

The handover ceremony was attended by students enrolled on the subject and senior officers from the university, as well as committee members from Sarawak Cheshire Home and Breakthrough Network Berhad.