Swinburne students continue to deliver solid ACCA exam results
December 5, 2018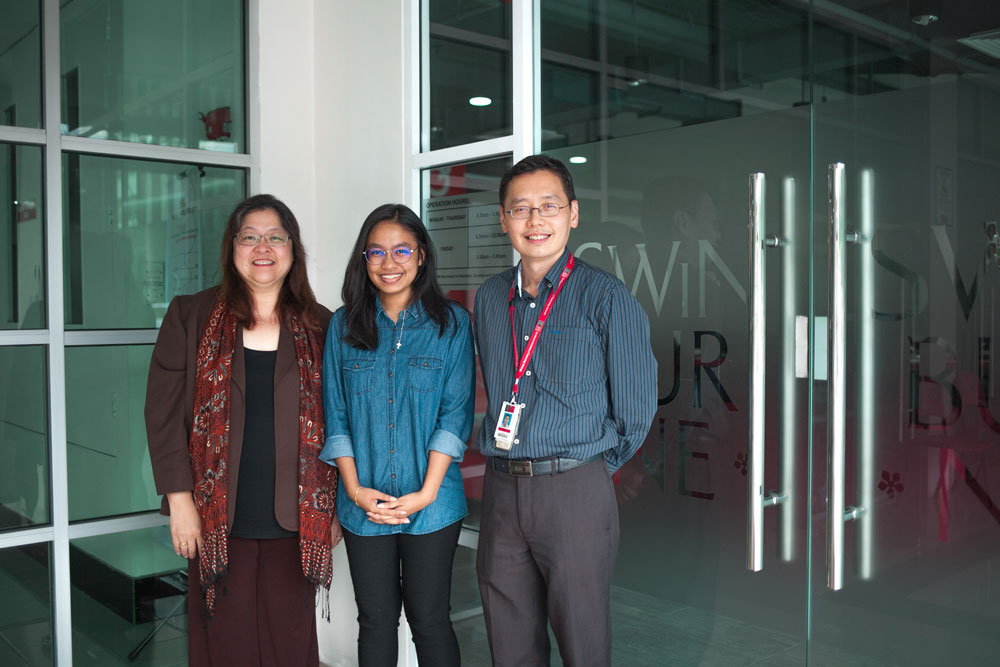 Melissa Ann with Professor Lee Miin Huui (left) and Dr Fung Chorn Yuan.
KUCHING – For the fourth consecutive times, ACCA (Association of Chartered Certified Accountants) students of Swinburne University of Technology Sarawak Campus delivered another solid results in the September exam, achieving a higher target marks for the Strategic Business Leader (SBL) paper.
An analysis of the September exam results shows that among those who have passed the exam, one third of them scored 60 marks and above, with the highest record of 80 marks.
Overall, this shows an overall improvement in students' performance. This was the first exam conducted under the new 2018 ACCA syllabus.
According to Swinburne's SBL lecturer and discipline leader for professional courses Dr Fung Chorng Yuan, an analysis on those who have passed the papers shows that Swinburne performed better compared to the past exam sittings in September and December 2017, as well as March 2018.
"I'm very proud of all our students. One of them, Melissa Ann Liew, attained a remarkable 80 marks in her SBL paper. This was a 4-hour exam and such an achievement speaks volume about the quality of our Swinburne ACCA courses," remarked Fung.
To prepare for the exam, Liew said she read up on recommended articles as well as specimen and mock exam papers made available by her lecturer Fung. On top of that, she also listened to webinars conducted by ACCA and constantly practice doing question papers in class.  
Liew, who was the student speaker at the recent Swinburne's October graduation ceremony and recipient of the 'Anugerah Graduan Cemerlang Yayasan Sarawak 2018', said she is very thankful to God and to everyone who has supported and encouraged her throughout the exam period.
"Sitting for the professional exam had helped me to look for the root cause of issues and to investigate how different issues are linked to one another to enable me to find the most effective and efficient solutions. It has also helped me to understand the need for a high ethical standard in my future job," commented Liew.
For students preparing to sit for the ACCA exam, Liew advised them to take time every day to study and practice, read up reputable articles on websites such as The Financial Times and Business Insider, and most importantly, to get enough sleep as a well-rested mind is a better prepared mind.
Meanwhile, Swinburne's Dean of Faculty of Business, Design and Arts Professor Lee Miin Huui elaborated that a majority of Swinburne's ACCA students are in their second and final-year study majoring in Accounting or Accounting and Finance degree.
"This is the privilege under the Swinburne ACCA Accelerate programme. Our students have the benefits of sitting for ACCA professional examination while pursuing their studies in university, subsequently obtaining a business degree upon graduation."
"Not only that, students under the Accelerate programme can enjoy a reduction in exemption fees and waiver of annual subscription fee of up to two years. Parents can now have their children obtaining a degree and a professional qualification at the same time," explained Professor Lee.
Swinburne will have four ACCA intakes in 2019 and application is now open for the first intake in January 2019. Deadline for application is 31 December 2018. For more information, contact 082-415 353 or email to study@swinburne.edu.my.
Swinburne is a reputable Australian university with campuses across Melbourne and Kuching, offering excellent choices for students to earn an international degree no matter which campus they choose. The Kuching campus offers courses at foundation, undergraduate and postgraduate levels in business, design, engineering, computing and science. All courses taught are identical to those at the Melbourne campus. As a result, graduates at the Kuching campus are awarded the same Australian qualification that allows for broader recognition and better employment opportunities around the world. 
Swinburne will be holding its Open Day on 15 December 2018 from 10am to 5pm at the Kuching campus located at Jalan Simpang Tiga. All are invited, particularly SPM, STPM and UEC school-leavers who are looking to pursue an Australian tertiary education locally.
For more information about Swinburne, visit www.swinburne.edu.my, Facebook page (@swinburnesarawak), Instagram (@swinburnesarawak), Twitter page (@Swinburne_Swk) or YouTube channel (Swinburne Sarawak).