Swinburne students hit the mark again in ACCA exam
January 16, 2020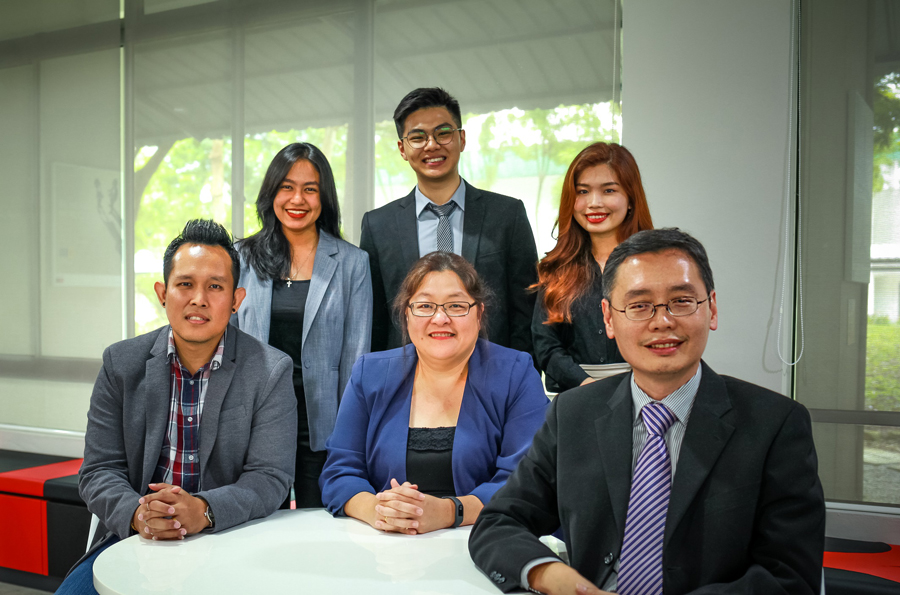 (Back row, L-R) Liew, Lui and Ng in a group photo with Professor Lim, Professor Lee and Dr Fung (front row, L-R).
KUCHING – Swinburne students and graduates achieved a higher target in the ACCA (Association of Chartered Certified Accountants) examinations after the release of the December exam results recently.
Swinburne's Discipline Leader for Professional Courses and senior lecturer for the ACCA course Dr Fung Chorng Yuan commented that the students' pass rates exceeded the World Pass Rates for all three Professional Level papers. The most notable pass rate is for the Strategic Business Leader (SBL) paper where Swinburne achieved 83%. 
"These are the results of the effort and dedication of our academic team, as well as our systematic teaching and learning approach. We have achieved many records of high pass rates since the first exam sitting in September 2017 and this is just another excellent feather in our cap," remarked Dr Fung.
Three students have passed their last ACCA professional level papers namely Lui Ming Xuan, Melissa Ann Liew and Diana Ng Yun Yu. Liew and Ng completed their degree last year. Liew will be joining one of the international audit firms this month.
Lui, on the other hand, passed all his ACCA papers before he completed his degree. He is currently waiting for his final semester's results to be released tentatively mid-February. Lui has proven that students can pass all four ACCA professional level papers before graduation. Dr Fung opined that this is a great achievement, all the more noteworthy as Swinburne celebrates its 20 years of excellence in teaching and learning in Sarawak.
Swinburne's Head of School of Business Professor Lim Weng Marc applauded the achievement, saying that equipped with these reputable dual qualifications, Swinburne's graduates have a competitive edge when seeking employment. He added that the students have both the technical and soft skills greatly needed in the profession.
At the Swinburne's Sarawak campus, second and final-year students majoring in Accounting or Accounting and Finance are eligible to join the ACCA Accelerate Programme. According to Swinburne's Dean of Faculty of Business, Design and Arts Professor Lee Miin Huui, students joining the Accelerate programme can enjoy a substantial reduction in exemption fees and waiver of annual subscription fee up to the year of graduation.
"It is a faster path of getting a degree and a professional qualification at the same time. Of course, it will take a great amount of effort, hard work, persistence and sacrifices on the students' part. It is not easy but at the end, it's worth it," explained Professor Lee.
Swinburne has two major intakes for ACCA courses. The next intake will be in July and the closing date for application is the last week of June. For enquiries, chat through WhatsApp at 013-886 8353 or email study@swinburne.edu.my.
Swinburne 2020 intakes for Degree, Foundation and Diploma programmes are now open for application. Classes will commence on 2 March 2020 (Degree) and 13 April 2020 (Foundation and Diploma). For enquiries, visit swinburne.edu.my/apply-now/2020-intakes/.
With Swinburne's Easy Payment Plan, students can pay their tuition fees over ten interest-free instalments annually, making it affordable for students to pursue a high quality Australian education without having to go abroad. A processing fee of RM100 applies and the plan is available to student from all levels of study.
For more information about Swinburne, visit its Facebook page (@swinburnesarawak), Instagram page (@swinburnesarawak), Twitter page (@Swinburne_Swk) or YouTube channel (Swinburne Sarawak).