Swinburne students seek to save the world's oceans in IET Global Challenge
June 24, 2019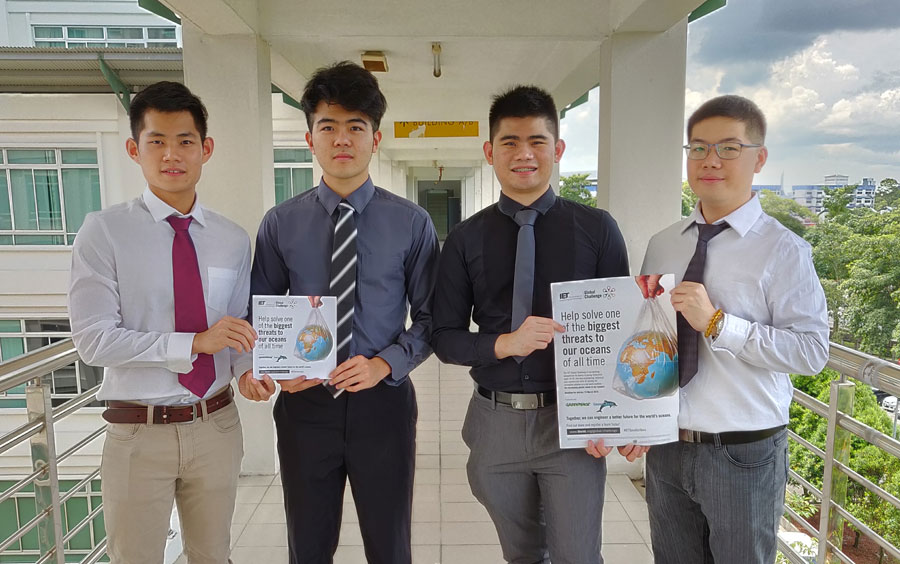 From L-R: Pei, Gan, Lee, and Chua are heading to the IET Global Challenge 2018/2019 finals.
KUCHING – The innovative solution of four Swinburne students towards solving the global ocean crisis has placed them in the winning shortlist of the Institution of Engineering and Technology (IET) Global Challenge 2018/2019.
The IET Global Challenge is an exciting competition for teams of young innovators ages 18 to 35 to solve real world problems using their engineering, technical, and commercial skills. This year, the competition partnered with two charities, Greenpeace and GreenSeas Trust, to challenge contestants in developing ideas towards engineering a better future for the world's oceans.
Swinburne's team KaBoom which comprises engineering students Lee Zhe Wei, Jason Pei Shun Fui and Chua Wei Long, as well as biotechnology student Gan Ger Yuan, competed against 150 entrants worldwide in the competition.
Among the four entrants shortlisted under the Greenpeace challenge was Team KaBoom's proposal titled 'Liquid Product Dispensing Machine and its Transportation System'. The team's solution which utilises new technologies and alternative delivery systems to reduce single-use plastic packaging successfully advanced the team to the final stage of the competition.
In the first round, team entrants were evaluated by the judging panel based on the technical feasibility, efficiency, innovation and commercial viability of the proposals, and the quality of their submissions. Moving on to the final stage which will be held in August, teams will be judged on an elevator pitch and thereafter, celebrated at the IET Innovation Awards on 13 November at The Brewery, London.
Although Team KaBoom consists of members of different disciplines, they were gathered by their common goal to lend a hand in the conservation of the environment and to solve one of the world's major problems of increasing plastic waste in our oceans.
"Being one of the four finalists in the IET Global Challenge under the Greenpeace challenge is a great honour for us. Our team is grateful for the guidance of our Swinburne lecturers who gave us invaluable advice and support in our preparation for the final round," they said.
Swinburne offers excellent choices for students to earn an international degree no matter which campus they choose. The Kuching campus offers quality and affordable courses at foundation, diploma, undergraduate and postgraduate levels where all courses taught are identical to those at the Melbourne campus.
With a focus on developing future-ready learners equipped with real-world experiential learning, Swinburne graduates are recognised and desired by employers globally. Swinburne's overall Graduate Employability Rate is 92% where graduates are hired within six months after completing their studies.
For more information about Swinburne, visit its website www.swinburne.edu.my, Facebook (@swinburnesarawak), Instagram (@swinburnesarawak), Twitter (@Swinburne_Swk) or YouTube channel (Swinburne Sarawak).