Swinburne team wins third place in Airbus innovation competition
December 20, 2019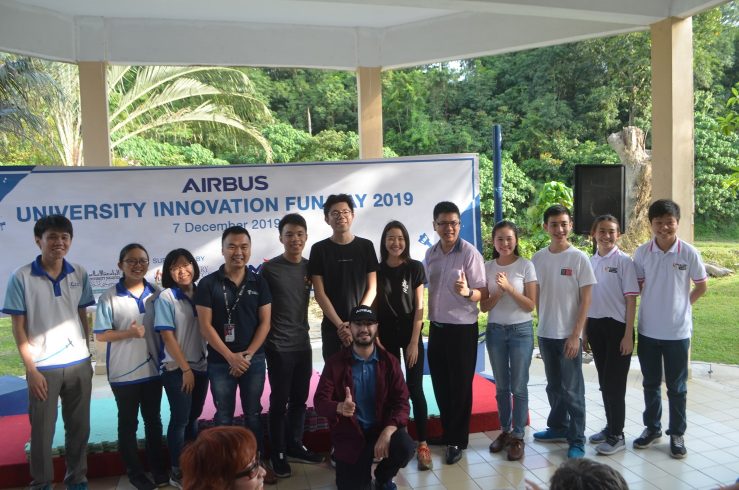 Group photo of team SwinBee and other finalists.
KUCHING – A group of engineering students from Swinburne bagged the third prize in the Airbus University Innovation Fun Day (UIFD) event recently held at International Islamic University Malaysia (IIUM).
The group SwinBee consists of Swinburne's Deputy Head of School of Engineering and project supervisor Dr Chua Hong Siang, and engineering students Peter Ling Ting Rang, Marcus Tan Lee Soon, Tsen Xin Hui, and Derisee Tang Shao Ting.
The objective of UIFD event is to nurture and promote the spirit of innovation among university students and the community of universities with Airbus in Malaysia. After a qualifying round in September, six teams across Malaysia were shortlisted as finalists and subsequently invited to UIFD 2019 in Selangor.
The finalists were two teams from Universiti Sains Malaysia, and one team each from IIUM, Taylor's University, Universiti Pertahanan Nasional Malaysia and Swinburne Sarawak. Team SwinBee was the only shortlisted team from East Malaysia.
During UIFD, the teams were required to complete three separate missions. In Mission 1, they were required to build a rocket drone which could be launched to 100 feet and for the drone to return to ground perfectly on a small landing platform. Mission 2 involved on-the-spot design and creation of an ornithopter, a wing-flapping flying machine, mimicking the flight of a bird.
The final mission which was Mission 3 required the team to engineer a modular drone capable of flying in confined spaces, lifting weights and going underwater. On top of that, the drone had to survive an intentional drop from one-storey height.
Each member of team SwinBee was awarded a winning plaque, achievement and participation certificates, souvenirs from Airbus, as well as a ticket to experience Airbus helicopter simulation. The team also received a cash prize of RM2,000.
Swinburne is an Australian university based in Melbourne, Australia. The Sarawak campus in Kuching is the only international, full-fledged branch campus of the university. Offering programmes in engineering, computing, science, business and design at Foundation, Diploma, Degree, Master and PhD levels, Swinburne Sarawak is currently ranked in JobStreet.com Top 10 Preferred Private University in Malaysia.
Its 2020 intakes are now open for application. Classes for Degree programmes will commence on 2 March 2020, while classes for Foundation and Diploma will commence on 13 April 2020. Students residing outside Kuching will be entitled for free on-campus hostel stay for one semester (terms and conditions apply) and interest-free payment plan (ten instalments annually) is also available.
For programme or application details, visit www.swinburne.edu.my or email to study@swinburne.edu.my.
For more information about Swinburne, visit its Facebook page (@swinburnesarawak), Instagram page (@swinburnesarawak), Twitter page (@Swinburne_Swk) or YouTube channel (Swinburne Sarawak).