Swinburne's academic wins National Outstanding Educator Award
June 19, 2019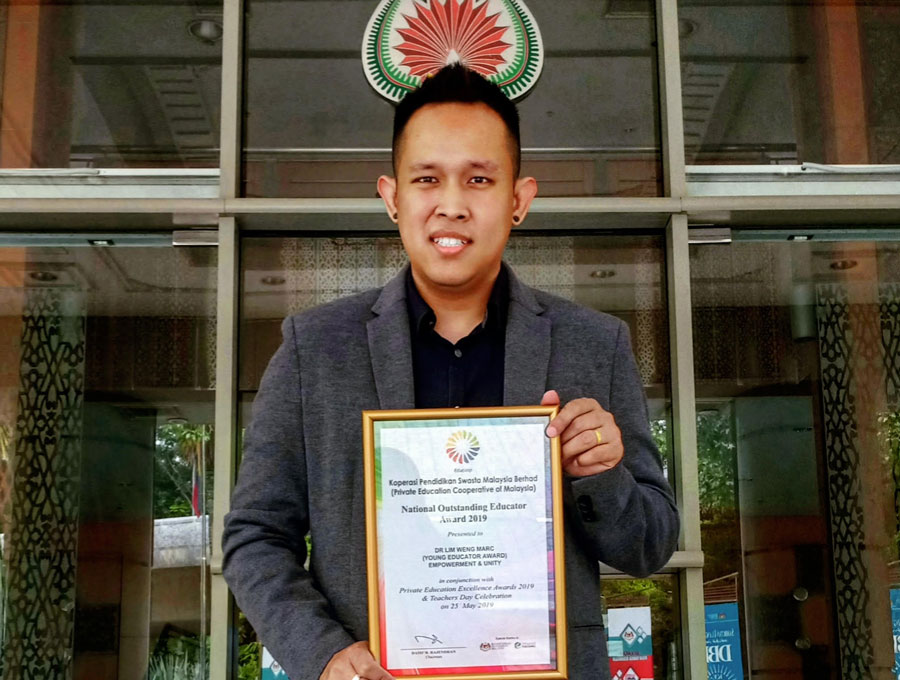 Dr Lim with his National Outstanding Educator Award.
KUCHING – Swinburne's Head of School of Business Associate Professor Dr Lim Weng Marc has won the National Outstanding Educator Award at the Private Education Excellence Awards 2019 held in conjunction with the National Teacher's Day Celebration at Dewan Bahasa dan Pustaka, Kuala Lumpur recently.
Dr Lim, who is from the Faculty of Business, Design and Arts, was represented by his brother, Lim Weng Eu, who received the award on his behalf from YBhg Datin Seri Hajah Nor Zamani, Director of Private Education Department of Ministry of Education Malaysia.
The Private Education Excellence Awards is an event held annually by the Private Education Co-operative of Malaysia with the support of the Ministry of Education Malaysia and Emerald Publishing since 2015. The awards recognise deserving educators from the Malaysian private education sector who have made outstanding contributions to education.
Dr Lim's selection as the award winner in the category for educators aged 40 and below in recognition of his excellence in teaching and learning through the LABS pedagogy at Swinburne's Sarawak campus was determined by a panel of judges led by Professor Dr Huam Hon Tat.
The LABS pedagogy is an integration of key pedagogies formulated by Dr Lim in response to the need to reach learners of today and to transform them into career and future-ready graduates. These pedagogies include learning contracts, authentic learning, blended learning, and scaffolding.
Commenting on the award, Dr Lim said that private education today is more important than it has ever been.
"Education is a necessity for the development and progress of any nation. Without a solid education sector, other industries will struggle with the lack of quality knowledge capital and human resources," said Dr Lim.
Dr Lim added that while private education may appear to be a lucrative business, its cost today is especially high as its funding depends largely on student enrolment and monies generated by highly qualified and skilled academics through competitive research grants and consultancy projects.
"The private education sector has been supplementing and complementing the government in providing education to local and international students since 1936, with an estimated contribution of RM50 billion to the country's economy."
"In addition, private higher education institutions today provide more than half of tertiary and post-tertiary education in the country, saving the government billions in educational expenditure. These noteworthy contributions highlight the importance of private education in delivering the educational needs not only for the young and locals, but also the matured and internationals", remarked Dr Lim.
Advising private education institutions not to rest on their laurels, Dr Lim emphasised on the need for continuous improvement in order to remain at the forefront of development.
"Private education institutions must continue investing in their academics and professional staff, strengthening their reputation in world rankings, and more importantly, making sure that they are always delivering graduates and research findings that will empower companies with the knowledge capital and skillsets necessary to succeed in future marketplaces", enthused Dr Lim.
Swinburne is a reputable Australian university offering top-notch international education opportunities for students. All courses taught on the Kuching campus are identical to those at the Melbourne campus. As a result, graduates are awarded the same Australian qualification that allows for broader recognition and better employment opportunities around the world.
Swinburne's business courses are carefully monitored for their academic quality, career relevance, and compliance with Malaysian and Australian qualifications standards. As a result, the courses are accredited and recognised by CPA Australia, Chartered Accountants Australia and New Zealand (CAANZ), the Chartered Institute of Management Accountants (CIMA) and the Association of Chartered Certified Accountants (ACCA).
For more information about Swinburne, visit its website www.swinburne.edu.my, Facebook page (@swinburnesarawak), Instagram (@swinburnesarawak), Twitter page (@Swinburne_Swk) or YouTube channel (Swinburne Sarawak).