Swinburne's researchers win best paper award at 2019 ICSyS
September 23, 2019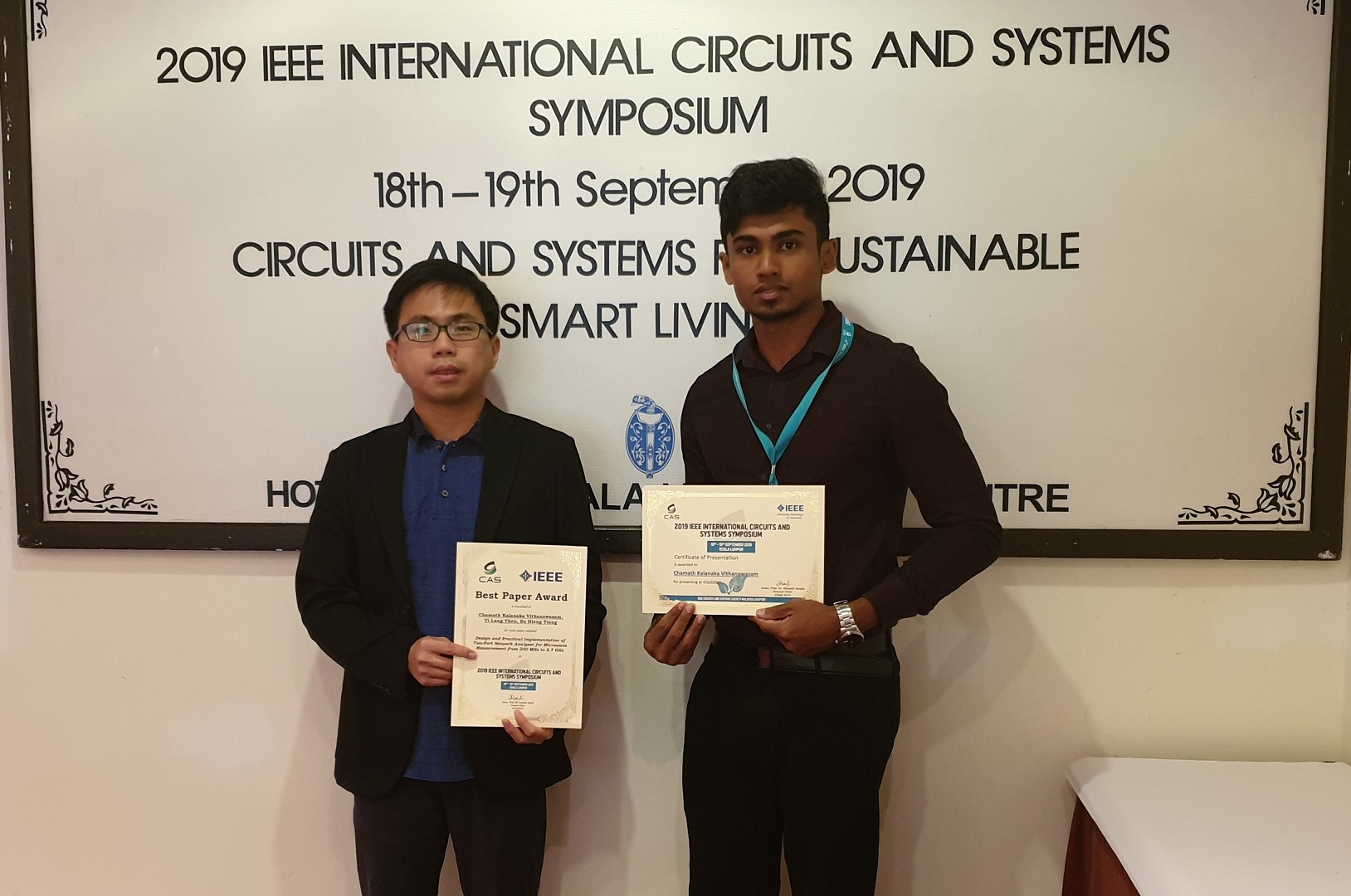 Dr Then (left) and Chamath at the 2019 ICSyS event.
KUCHING – A team from Swinburne's Faculty of Engineering, Computing and Science (FECS) was awarded the Best Paper Award at the recent 4th 2019 IEEE International Circuits and Systems Symposium (ICSyS) held in Kuala Lumpur.
The team consists of project leader and electrical engineering lecturer Dr Then Yi Lung, research student Chamath Kalanaka Vithanawasam, and Dean of FECS Professor Su Hieng Tiong. The paper titled 'Design and Practical Implementation of Two-Port Network Analyser for Microwave Measurement from 200 MHz to 2.7 GHz' focuses on the design and analysis of a portable and affordable network analyser. The device is capable of measuring radio frequency power ratios for high frequencies of up to 2.7 GHz.
Due to the complexity and high cost of commercially available network analysers which can cost up to RM1 million, research into utilising more affordable components for assembly and testing is a field with great research potential. The Swinburne researchers therefore, designed their own network analyser which was controlled via a Raspberry Pi microcomputer. Their subsequent results and conclusions were then presented at the symposium event.
According to Dr Then, the research work began in 2018 and was funded by Swinburne's internal research grant.
"The research findings from this project have allowed us to secure national funding under Ministry of Education Malaysia's Fundamental Research Grant Scheme (FRGS) which was announced last month. Moving forward, our research team aims to further develop the network analyser's power detector system," said Dr Then.
ICSyS, formally known as IEEE International Conference on Circuits and Systems, provides a platform for international researchers to showcase their unpublished findings related to circuits and systems. Topics covered at the symposium include digital circuits and systems; biomedical and life science; sensory circuits and systems; and other related topics.
Swinburne's Sarawak campus offers a standard four-year Bachelor of Engineering degrees with integrated honours year, covering disciplines such as civil, chemical, mechanical, electrical and electronic, and robotics and mechatronics. The degrees are recognised by professional engineering bodies such as Board of Engineers Malaysia (BEM), Engineers Australia and The Institution of Engineers Malaysia. The course curriculum taught and assessments conducted are equivalent and aligned to identical learning outcomes at the Melbourne campus.
For more information about Swinburne, visit www.swinburne.edu.my, Facebook page (@swinburnesarawak), Instagram (@swinburnesarawak), Twitter page (@Swinburne_Swk) or YouTube channel (Swinburne Sarawak).