Swinburne's Sarawak campus comes alive with lion dance performance
February 22, 2018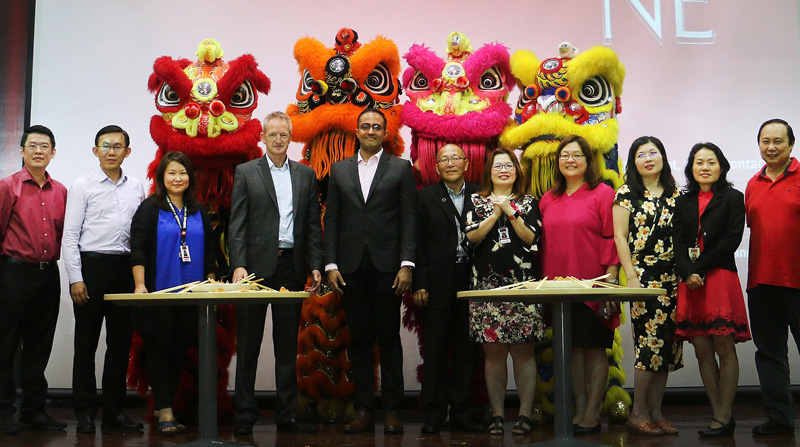 Professor Wilson (4th left) and Jagdish (5th left) in a group photo with members of the Executive Group and senior management.
KUCHING – Swinburne University's Sarawak branch campus ushered in the Chinese New Year with a lion dance performance and 'yee sang' toss yesterday, symbolising a celebration of togetherness for good health and prosperity.
Staff and students of the university joined in full force to witness the colourful performance and enjoy the festive atmosphere. The performance ended with the traditional 'yee sang' toss with members of the Executive Group and senior management led by Swinburne Sarawak's Deputy Vice-Chancellor and Chief Executive Officer Professor John Wilson and Director of Marketing and Student Recruitment Jagdish Singh.
According to Professor Wilson, Sarawak is a land of many customs and cultures due to its diverse people and view this as a strength that should be celebrated.
"It is my first Chinese New Year celebration here and I look forward to many more cultural celebrations on campus to give our students added exposure to the global world we live in," said Professor Wilson.
Organised by the department of Marketing and Student Recruitment, the event was timed to coincide with the Orientation Week for students beginning their degree courses next week.
Jagdish commented that in addition to celebrating the Chinese New Year for all staff and students, they wanted to give the international students exposure to Malaysian culture as 20% of the university students come from over 50 countries.
"It was great to see many international students had their phones out and the smiles on their faces throughout the 90-minute performance," said Jagdish.
For more information about Swinburne Sarawak, visit the university's website (www.swinburne.edu.my), Facebook page (@swinburnesarawak), Instagram (@swinburnesarawak), Twitter page (@Swinburne_Swk) or YouTube channel (Swinburne Sarawak).