Swinburne's sports day uncovers athletes for future sports meet
May 9, 2017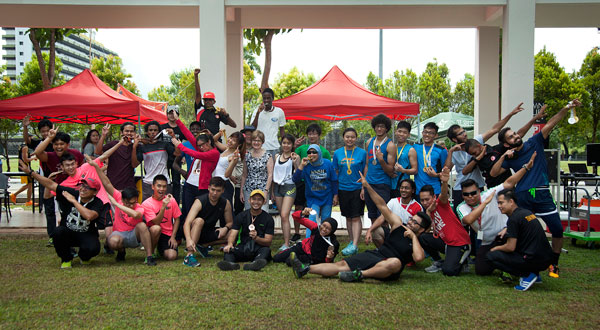 The jubilant runners after the medal presentation ceremony with Professor Janet Gregory, DVC and CEO and Haji Hussain Bin Taiban, Registrar & Director, Student Engagement.
KUCHING – Swinburne Sarawak's inaugural Sports Day saw the participation of more than 30 students in various track events.

Several categories of track events were held, namely the 400m men's race, the 200m men and women race and, the 100m men and women race. A 100m Superstar race category was also held for staff members to participated in.

Other than the 100m Superstar race, runners for these categories were students from the Faculty of Engineering, Computing and Science, and the Faculty of Business and Design.

According to Mohammad Hisyam Jamal Mohamed, Assistant Manager Student Experience and Activities, "The event was a platform for us to identify, train and sustain some of the best athletes from among our students. We hope to groom them to be Swinburne's representatives in sports events held locally and nationally."

Students identified at the event will be groomed for participation in SUKIPT 2018, a biennial sports meet which will be held at Universiti Kebangsaan Malaysia, Bangi in February next year.

"This is also to promote and encourage Swinburne's community to participate in more health-related activities and thus can create a healthier and fun campus environment," Hisyam added.

During the event, the team made up of Wan Faris Ali Ibrahim, Yusuf Buwanguzi, Phang Kin Kai and Hii Ming Ong took first place in the campus relay category.

They were closely followed by the team who were made up of Muhammad Yousuf Khan, Obaid Rafique Jan, Bassel Aggour and Mohammed Mohsen Al Karim while third placing was won by Takunda Ray Jonga, Sylvester Graman Sekino, Lai Teck Boon and Jenifer Ding Tiew Fung.

In the 400m men's race, Yusuf Buwanguzi beat the other runners with the time of 1minute 29secs. Yusuf once again outrun the other runners in the 200m men's race category with a time of 48.03sec, beating his nearest competitor by 0.44seconds.

Meanwhile in the women's 200m race, Liu Lie Min took the title with a time of 1minute 1seconds with Aliaa Syamimi and Oh Yee Chu taking second and third placings respectively. Meanwhile, the 100m women's race was won by Chua Ming Pei (12.94sec), Aliaa Syamimi Binti Jamali (13.84sec) and Jenifer Ding Tiew Fung (16.31sec).

For the 100m men category, and with the time difference of .19secs, Muhammad Yousuf Khan took the title in this category when he outrun Hii Ming Ong who took second place, and Mohamed Ashfaaq Mohamed Riphque (11.16sec).

The highlight of the day was the 100m Superstar race, a category specially created for staff of the university.

Lai Teck Boon from Student Systems and Administration managed to outrun Mohammad Hisyam Jamal Mohamed (Student Experience and Activities) and Abdull Rahmat bin Abdullah Chik (Student Central) in what many thought was a close race.

The Sports Day was organised by the Student Engagement Division with the support of Swinburne Sarawak Student Council 2017, Swinburne Running Club and Student Leadership and Volunteering Program (SLVP).