We understand the importance of obtaining a quality education that has real impact on an individual's future – an education that will bring you places and one that fulfils your lifelong dream.
Although it is one of the most popular study destinations in the world, Australia is also one of the most expensive. In an analysis done by Studymove, an Australian based consultancy firm, the average annual tuition fee for international undergraduate students in 2018 was AUD30,840 (approximately RM89,000).
This does not include other expenses such as accommodation, transportation, groceries, entertainment, phone and internet, and others. According to a 2018 article published in QS Top Universities website, students studying in Australia need AUD20,290 (approximately RM59,000) each year for living costs alone. That's about RM1,250 a week!
Worried that they might not be able to afford the future cost of education, parents of prospective students are constantly on the lookout for the best saving options to build their children's education fund. With the ever surging education costs, parents also continue to look for the most cost efficient ways to finance their children's education.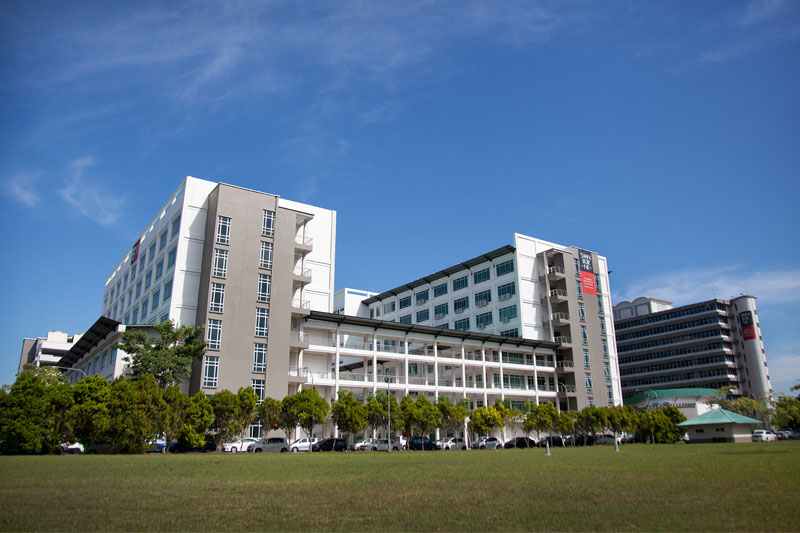 But how does starting your Australian education with Swinburne in Kuching and completing it at the Melbourne campus sound like? Or stay put and finish the entire course in Kuching? Either way, get the most out of your savings and still earn an Australian degree no matter which campus you choose.
Does the Kuching campus confer Australian degree, you asked? The answer is YES! As the Kuching campus is the only international branch campus, the courses taught and assessments are equivalent and aligned to identical learning outcomes at the Melbourne campus, ensuring high standard is maintained across the board. Eventually, students at the Swinburne's Kuching campus graduate and earn the same testamur as their counterparts in Australia.
The best part? Students at the Kuching campus pay only 1/3 the tuition fee of studying abroad yet receive the same Australian education closer to home. Students who are keen to experience what it is like to study abroad have the option to go on an exchange programme to Melbourne campus for a semester while continuing to pay local fees.
Here, we take a look at Swinburne's fees, both at the Kuching and Melbourne campuses. All fees are based on a standard full-time study load per year, are subject to annual review and may be adjusted.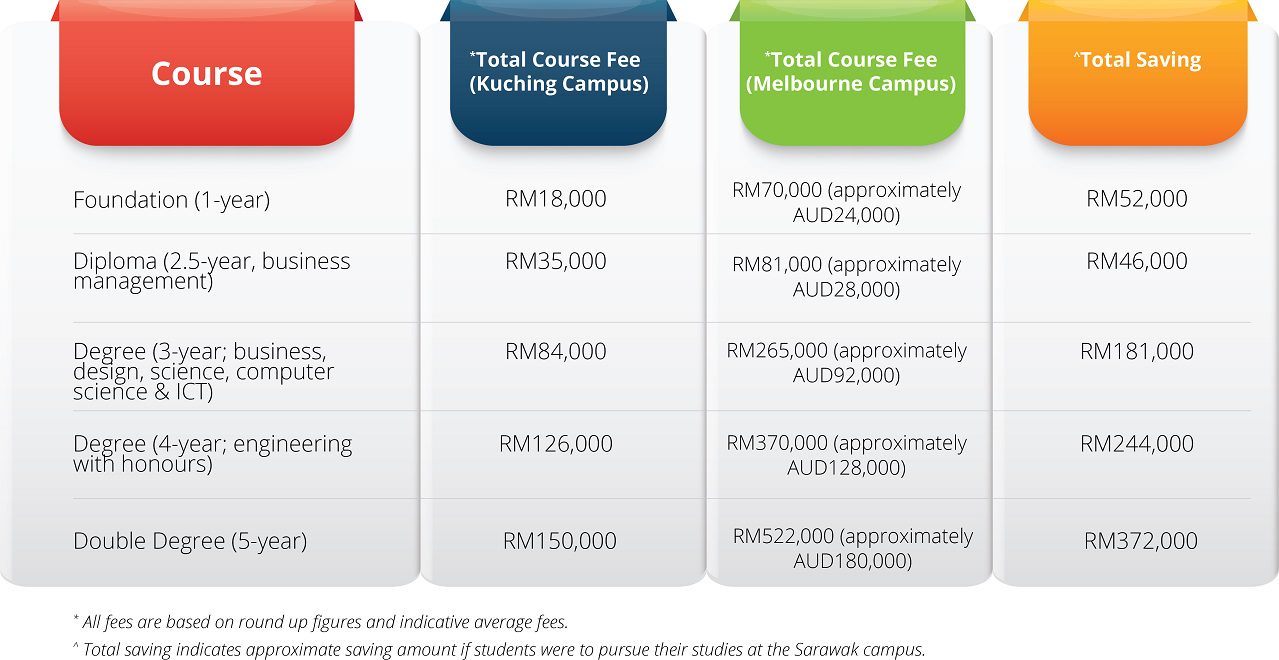 One of the best advantages of pursuing an Australian degree with Malaysian fees is the ability to save up on further education if there is keen interest in pursuing a postgraduate study. For example, a current engineering student might complete his four-year degree at the Kuching campus while putting aside a significant amount of money to continue his two-year postgraduate study in Melbourne.
Comparatively speaking, Swinburne's Kuching campus offers one of the lowest tuition fees for an Australian branch private university in the country. Although the fees are low, quality is not compromised as proven by its wide course accreditation by professional bodies such as Board of Engineers, Malaysia (BEM), Engineers Australia, Australian Computer Society, CPA Australia, the Association of Chartered Certified Accountants (ACCA) and other bodies.
Local and international students may apply for internal or external scholarships, bursaries or study loans offered by the university, state and government-linked agencies or private and charitable bodies. Students from pre-university, diploma, undergraduate and postgraduate levels are all eligible to apply for any of these financial aids.
So if you've always dreamed of pursuing your tertiary education at a reputable Australian university, look no further than Swinburne's Kuching campus.