A Day in the Life of a Digital Marketing Intern

By Communications Team | October 8, 2020

Ever wondered what happens during an internship in a digital marketing agency? Current computer science student Aekkraj Ganesan shares how he broadened his experience as a marketing intern over his semester holidays.

Written by Aekkraj Ganesan, Bachelor of Computer Science (Majoring in Internet of Things)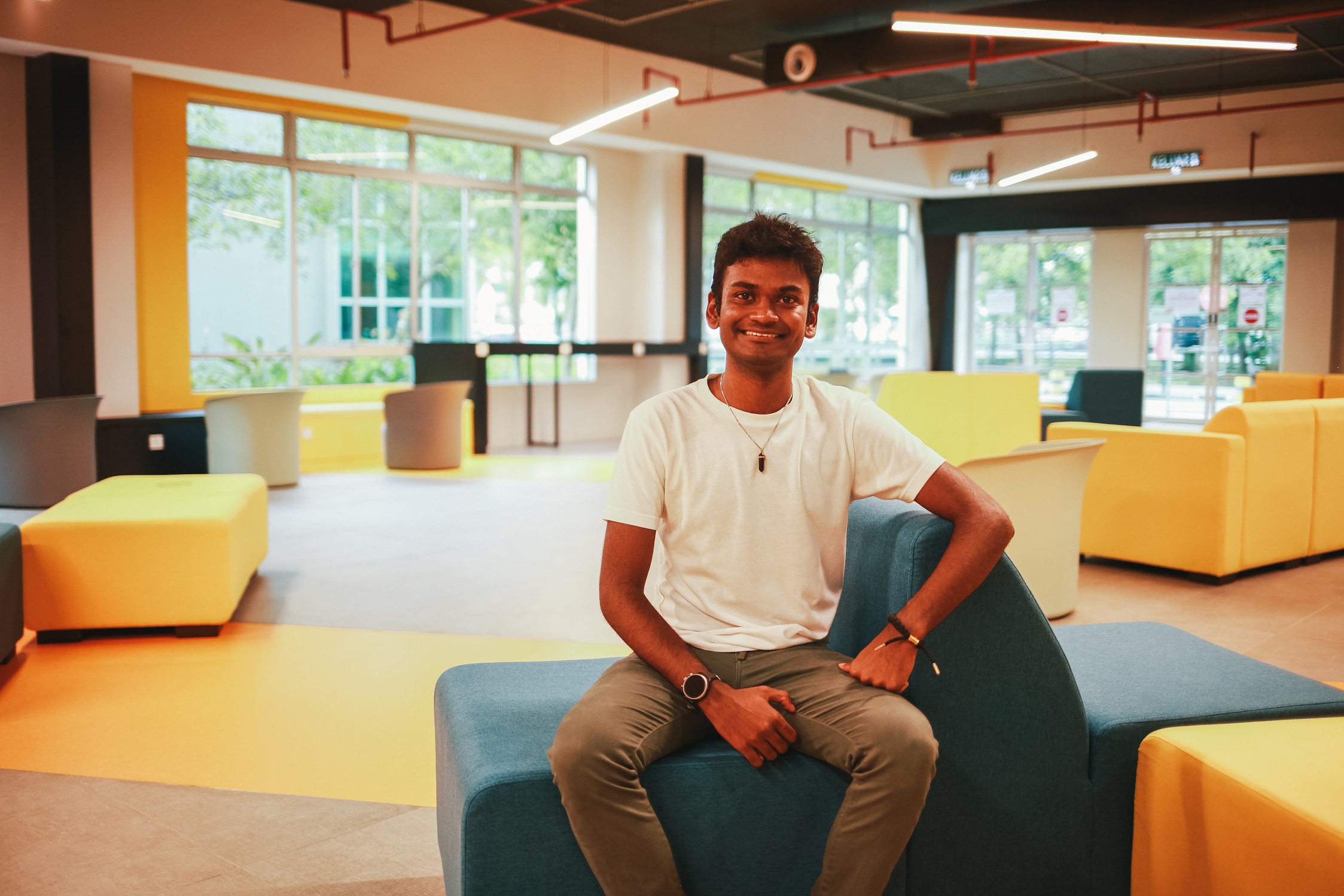 Hi everyone! My name's Aekkraj, and I'm currently pursuing my degree at Swinburne University of Technology Sarawak. This October marks my second year of living in Kuching.
But as the semester break begins, this bird flocks on a flight with his fellow students to travel back home or to visit other beautiful states of Malaysia. In my case, I chose to return to my hometown Kuala Lumpur which is an easy-breezy two-hour flight from Kuching. While my usual semester breaks mean catching up with friends and family back home, this time around, I decided to gain a little bit of experience by pursuing an internship.
During an internship, no day is exactly like the other and going into the realm of digital marketing as a computing student was definitely my attempt to try something new. Hence, my goal with this blog post is to share what my average day was like from an intern's perspective at a digital marketing agency called Pandan Social. Now that the introductions are all done, let's wake up and get to work!
7:15AM
My alarm goes off and I sit in bed, doing a 15-minute browse through my social media accounts before starting my day. My family members then play a game of "Who sends Aekkraj to the station today" in which the loser has to drop me off to the LRT train station for me to take the train to work.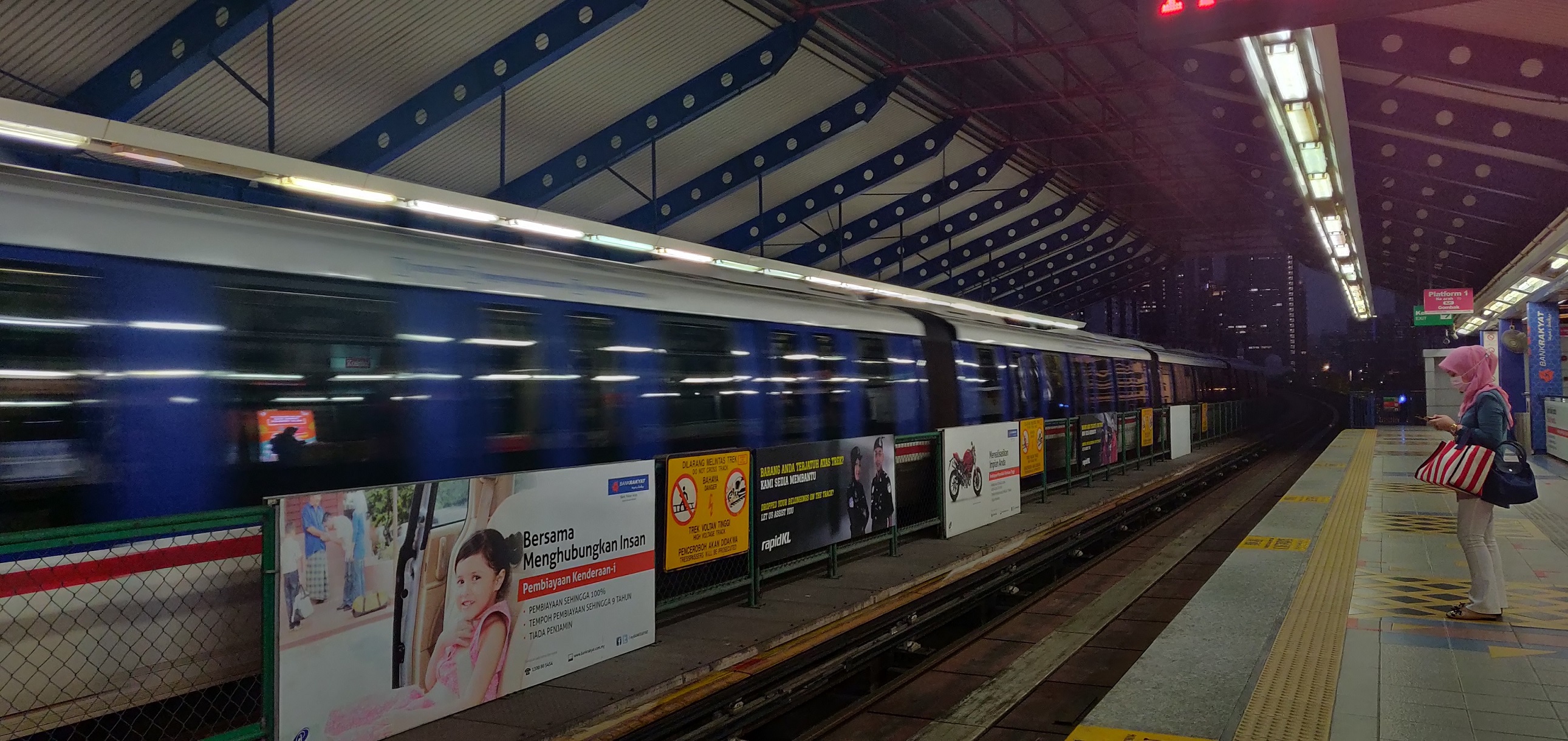 Waiting for the train at the Kelana Jaya LRT Line.
9:20AM
After a 35-minute train ride – just long enough to catch an episode of Modern Family on Netflix, I arrive at Bangsar. On some days, I'd arrive earlier so I can head on to the nearest mamak for a classic Malaysian breakfast comprising roti telur & teh ais (not teh c peng!). On days where I miss my alarm, I'll just grab something at a convenience store and begin my walk to work.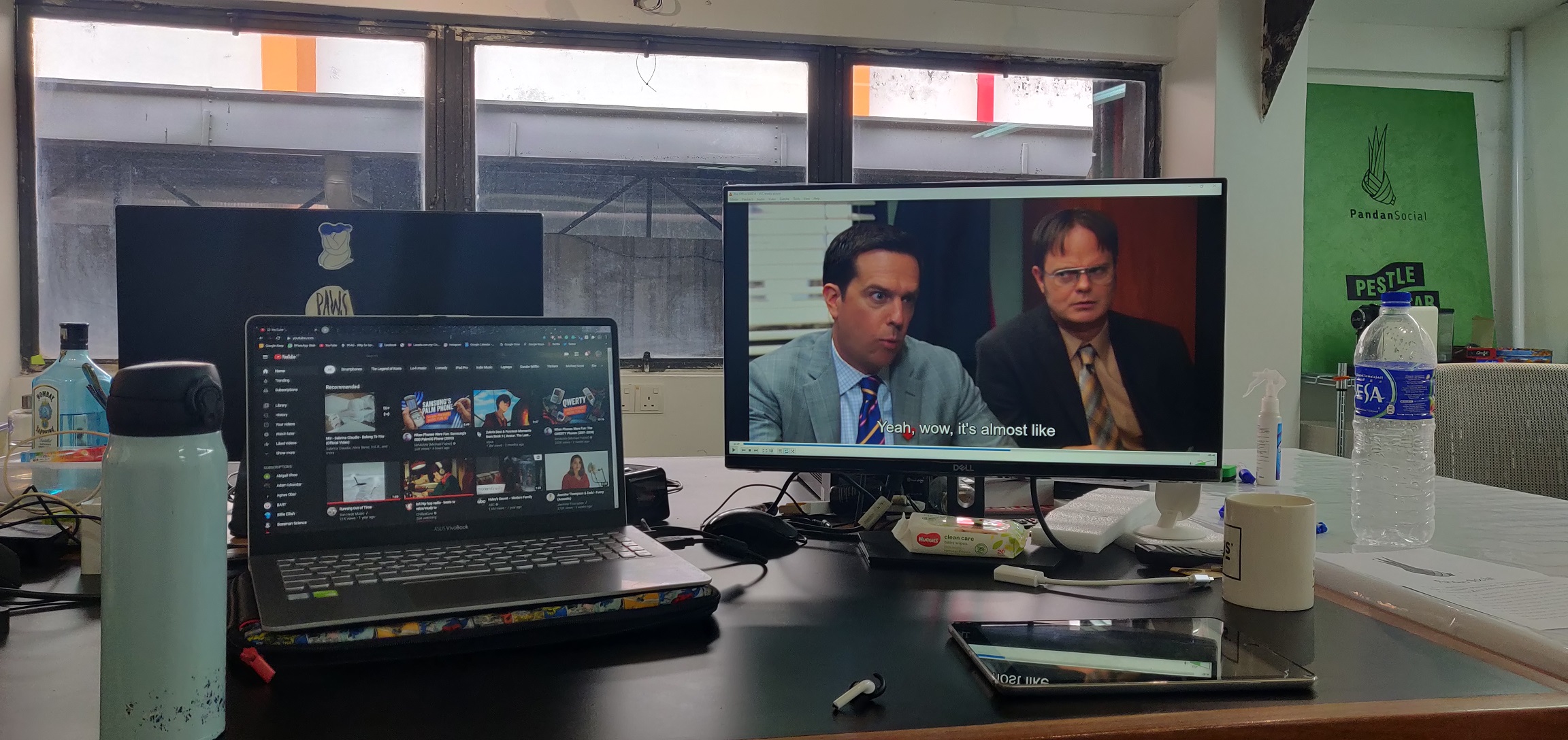 Catching an episode of The Office before work starts.
10:00AM
Work officially begins, and it starts off with a Google Meet Call where everyone talks about their tasks for the day. Shortly after, I am given my tasks and one of the two co-founders would give me a clear and concise brief on what I'm supposed to do.
11:00AM
On most days, I would be carrying out market research. This includes studying a targeted market and also taking randomised data to see if there's a trend to explore. I often use RStudio for this task which was something I learned in Foundation in Statistics, a unit I took at Swinburne last semester. Being able to directly apply what I was taught in uni to a real-life situation is really satisfying. 
1:00PM
You can't work all day! At about 1PM, everyone takes a break. Today, we are having a team lunch at a Japanese-Thai restaurant called Kaiju.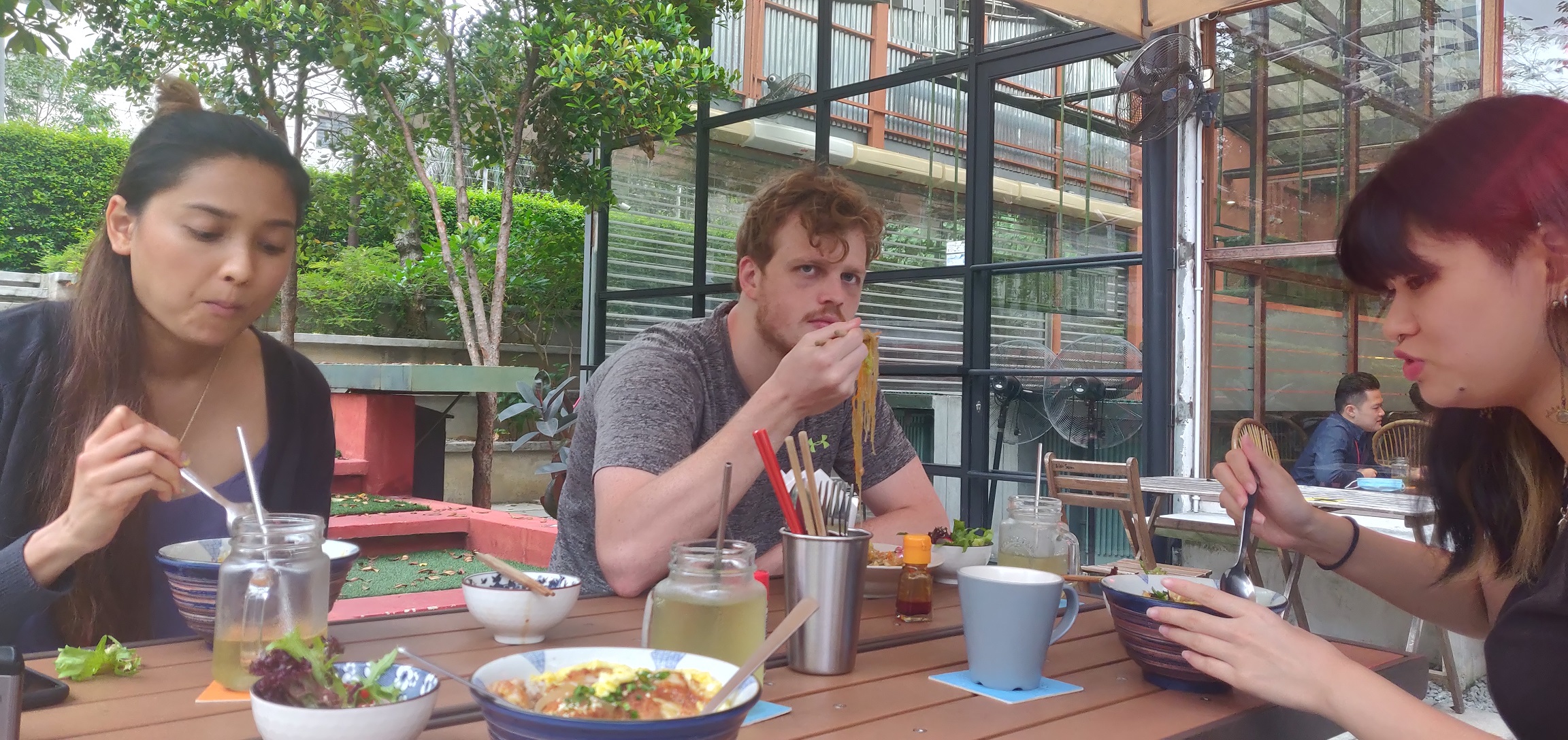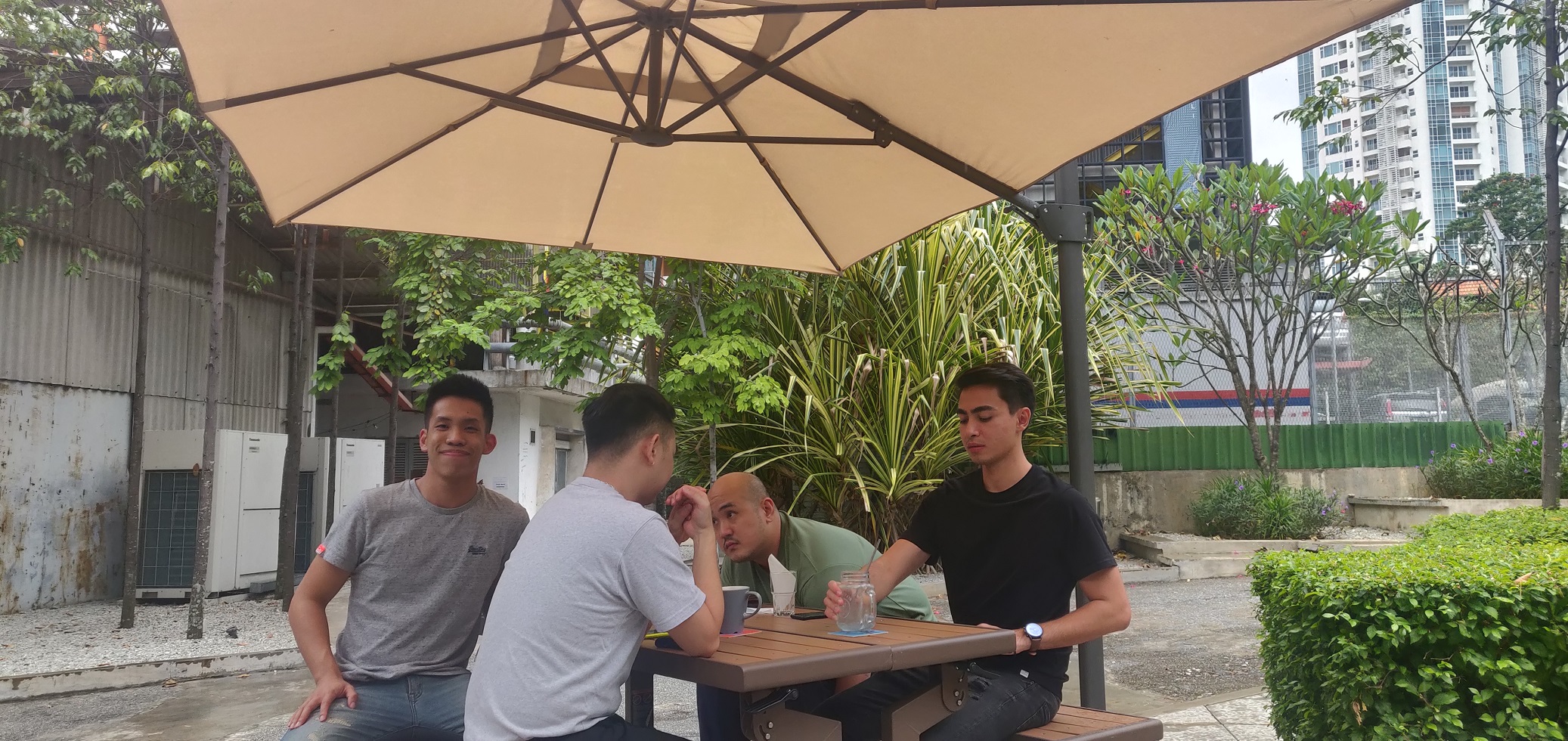 Team Pandan Social having lunch while following social distancing SOPs!
2:00PM
We're back at work. Other than my usual tasks, I also do some design work. Being able to work with professionals and closely observe how proper digital designing is carried out allows me to learn so much more. At Pandan Social, I'm almost constantly using applications like Adobe Photoshop, Illustrator and Adobe XD. Being able to access all those applications with my Swinburne Webmail is immensely useful and it's something I would urge other Swinburne students to take advantage of.

Attempting to create vector characters for a Merdeka Post.
3:00PM
You can't be an intern and not slack off from time to time. Since my phone is on 'Do Not Disturb' mode the entire day, I take a quick peek at my socials just to keep up with what's going on with friends every 2 hours or so. Or maybe every one hour…Okay fine, every 30 minutes.

 (It's actually every 20 minutes).
7:00PM
Before I call it a day, I usually wrap things up with a quick email to my bosses to let them know what I've covered for the day. Then, I'll pack up, plug in my earphones and begin my walk to the LRT Station although some days, my co-worker gives me a ride home (thanks Xuan!).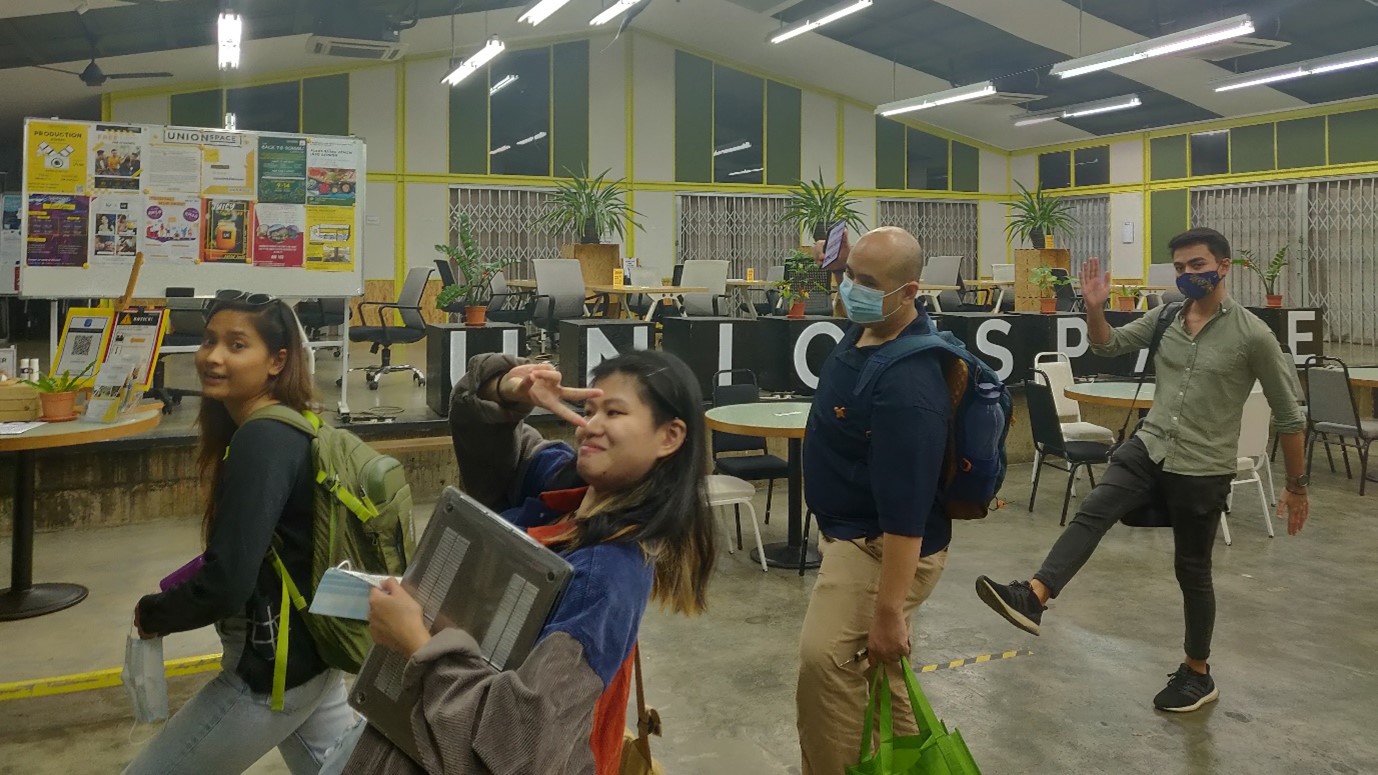 Excited to head back home.
8:00PM
Once I'm home, I head straight to the shower, have my dinner, and catch an episode of Money Heist before heading to bed. However, on weekends I'll meet up with my high school friends and spend the rest of the weekend for some much needed catching up.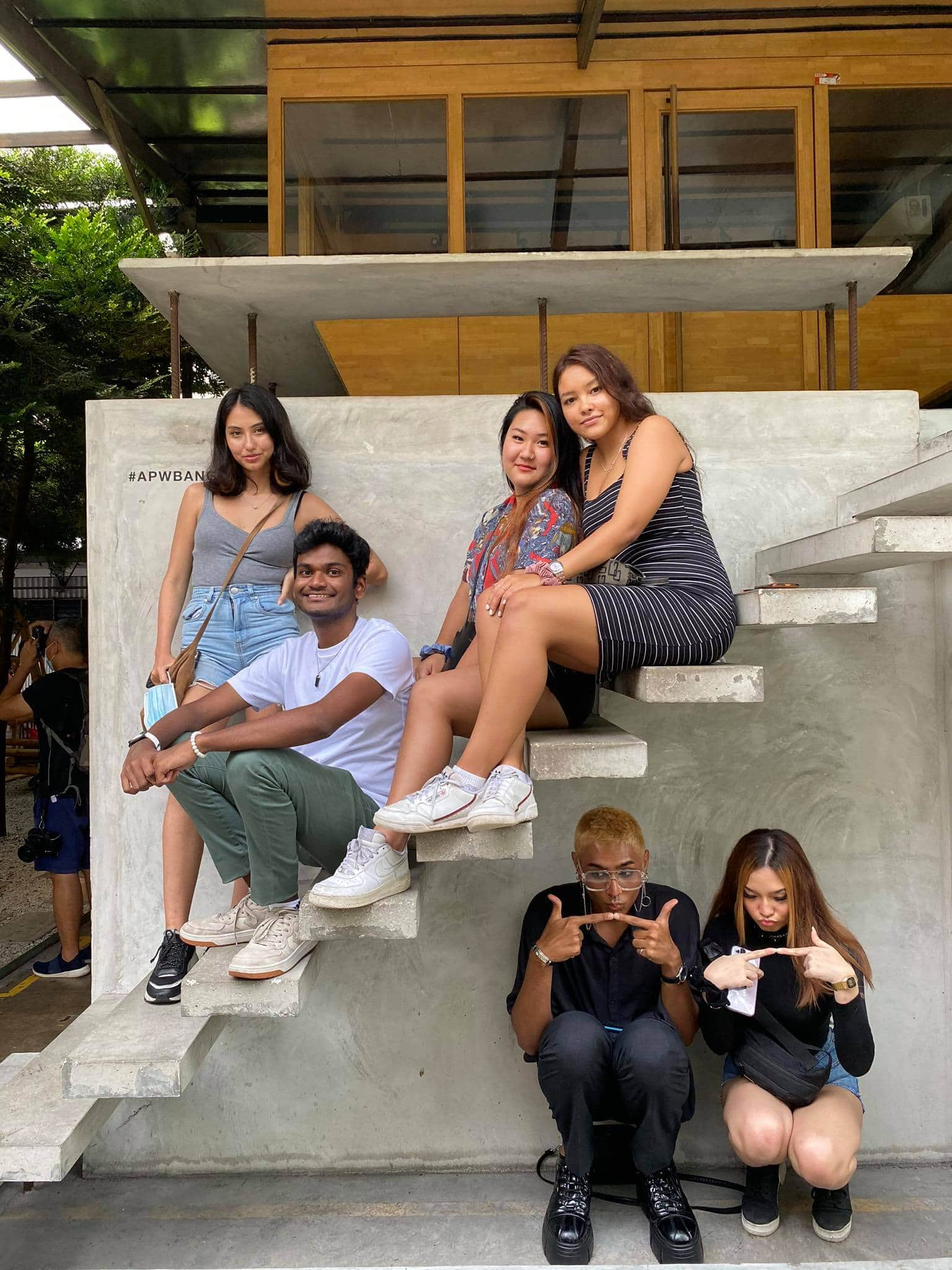 TGIF! Ready for some weekend hangs with friends at APW Bangsar.
IN A NUTSHELL
The internship provided me first-hand experience of how a modern workplace operates. During the two months, I've learned so much from each and every person in the office. From the constant advice in helping me to improve my design skills to helping me choose electives for this current semester at Swinburne, I've established close relationships with everyone, maximised what I could learn, and most importantly had fun each day that I was there.
The best part about this internship is the experience that I'm bringing back to Swinburne. I've gotten a taste of how proper social media management is done, as well as ways to improve my digital designing. With this new knowledge, I can directly apply it to boost promotion for The Swinburne Book Club which I'm a member of.
Other than that, the internship has also led to a new interest in marketing. As a Swinburne student, I am given the opportunity to explore a variety of electives such as social media, design, engineering or business units. This allows me to branch out of my course and take marketing as my elective for this semester. By doing so, I can expand my skillset and directly enhance my employability in the future. 
I hope this post has given you a better idea of what an internship is about and the benefits that come with it. 
Signing off,
Aekkraj
---
At Swinburne, our emphasis on Industry Engaged Learning allows students to experience the real work environment and gain a competitive edge while studying. We offer students the opportunity to engage with our industry partners through industrial based learning, industrial placements, capstone projects, and general internships.
Intake for Swinburne's October 2020 intake is currently in progress. The university is currently offering the Start With Zero Fees Programme to new commencing students. Classes for Degree programmes commence on 12 October.