There are 436 car parking bays on the Multi-Storey CarPark (MSCP – Building P). Entry into the MSCP is controlled by season card access which is issued by Kuching City Parking Systems (KCPS) only to staff and students of the University. Entry into the MSCP is from 6:00am till 10:00pm daily.
The ground open (unshaded) parking is open to all including visitors and it offers 346 car parking bays.
Please see below for reference.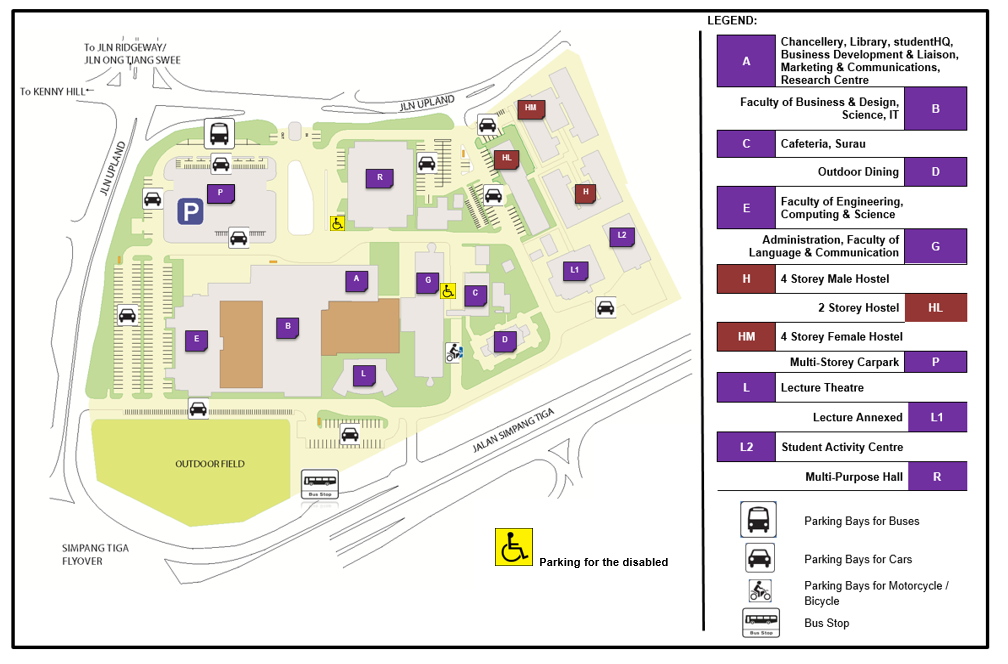 The parking and traffic management is managed by Kuching City Parking System (KCPS). They currently offer daily ticketing and monthly seasonal cards.
Entry via daily ticketing can be done at inner lane at the front main entrance and from the east wing entrance.
Drivers of vehicles should be aware of the 30 km/hr speed limit on campus roads.
Daily ticketing charges are as below:
| Duration | Price (RM) |
| --- | --- |
| First 20 Minutes | Free |
| First Hour | 1.00 |
| Subsequent Hour | 1.00 |
| Maximum | 4.00 |
Seasonal Cards
Only existing students and staff members can obtain the seasonal cards.
The details are as below:
| Type | Price (RM) |
| --- | --- |
| Multi Storey Car Park | 60.00/Month |
| Outdoor Parking | 40.00/Month |
The cards can be purchased at the KCPS office located at the basement of the Multi-Storey Carpark.
Student may pre-book car parking area online at http://kcps.com.my/swinburne.php Please refer to Kuching City Parking System's website for further details.
Motorcycles can be parked at the allocated shed behind Building G. Entry is free.
Wheel clamping is also enforced by KCPS. The purpose of wheel clamping is to minimize illegal parking & reduce traffic congestion.
Wheel clamping is imposed to ALL traffic offence, such as – Double parking, obstruct traffic flows, parked at blind spot / yellow box etc.
A release fee of RM 100.00 is applicable to remove the wheel clamping.