Inaugural Swinburne Sarawak Ramadan Bazaar Unlike Any Other
June 13, 2017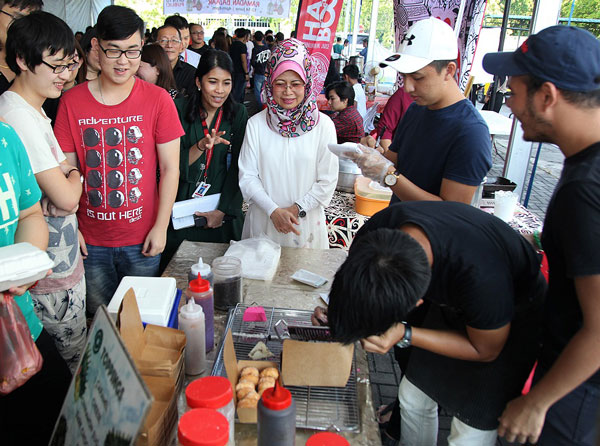 Datuk Hajjah Fatimah at the walkabout of the bazaar, accompanied by the senior management team of Swinburne Sarawak.
KUCHING – Swinburne University of Technology Sarawak Campus' Ramadan Bazaar with the theme Unlike Any Other offers visitors over 40 food stalls and food trucks to select and savour their favourite Malaysian, Asian and Western delights at discounted prices. These include Cocopuri, Rojak Muhammad Kucei, Sugar Bun, Kopicut, The Raw Kitchen Malaysia, Brobites, Thirst, HausBoom Borneo, Cangke Besa Kuching, Junk Home, Swee Kang Food Truck and Kuching Food Kartel.
The three-day bazaar, which was officiated by Yang Berhormat Datuk Hajah Fatimah Abdullah, Minister of Welfare, Community Wellbeing, Women, Family and Childhood Development Sarawak, is located in front of TommyBoy coffee next to Block A, Swinburne campus.
The bazaar will be open to members of the public from 4.00 p.m. to 8.00 p.m. starting from 12 June until 14 June.
Instead of the usual take-away concept at Ramadan bazaars, tables and chairs will be provided for visitors to dine-in and enjoy different foods & beverage under one roof.
At the opening ceremony, Associate Professor Wallace Wong Shung Hui, Director, Research, Consultancy and Future Projects said, "Swinburne Sarawak stands on its ethos of supporting the local community. This Ramadan Bazaar is a continuation of our efforts to give back and reinvest in the people of Sarawak."
Professor Wong was speaking on behalf of Professor Janet Gregory, Swinburne Sarawak's Deputy Vice-Chancellor and CEO, who was away on official duties.
According to Wong, proceeds from the funds raised from the sale of certain food, beverages and merchandise will also be channeled to three pre-selected charitable organizations.
"Swinburne also prides ourselves on giving our students a wholesome education which is not just about academic pursuits but to enable them to enjoy an exciting and dynamic experience by participating in community activities. For our international students, this is a chance for them to experience our local culture," he added.
As a key player in the state's aspiration in producing outstanding talent in the field of ICT, and as a way to promote the use of consumer technology, Swinburne Sarawak is collaborating with ride-sharing service Uber to offer visitors free rides worth RM30,000 during this three-day event.
Visitors going to and leaving the campus over the next three days will enjoy four free Uber rides worth RM5 each when they use the promo code KCHSWINPUASA. Visitors are reminded that these promo rides can only be used to and from the Swinburne Sarawak campus only.

Also present at the ceremony were the senior management team of the university, staff, students, vendors, and partners.