SMK DPHA Gapor sweeps prizes in web competition
March 20, 2015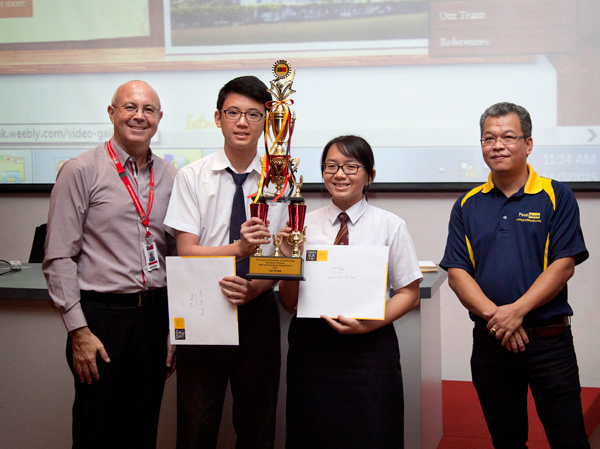 Yong Chie Xian (second from left) and Celine Ting Jia-Hui take first prize in the competition. With them are Cahalan (left) and Richard (right).
KUCHING – Students from SMK Datuk Patinggi Haji Abdul Gapor took the top three and consolation prizes in a web development competition organised by the Faculty of Engineering, Computing and Science at Swinburne University of Technology Sarawak Campus, recently.
First prize went to the team of Celine Ting Jia-Hui and Yong Chie Xian. Second prize winners were Jonathan Chung Yiik Hung and Low Wei Seng, while third prize went to the pair of Lai Peng Hung and Mok Chern Loong.
The two consolation prizes of the competition were awarded to the team of Lai Yong Hao and Gillian Tan, and Nelson Chai Zhen Faan and Mandy Tan Hui Sing.
The prizes included a trophy, certificate and cash.
Each team had to re-create the Swinburne Sarawak website using Weebly, a web hosting service.
"The aim was to let participants get an opportunity to experience how to create a website, where they could experiment with their imagination and creativity but also to develop the soft skills that we know are so important to employers," said Swinburne Sarawak Deputy Vice-Chancellor and Chief Executive Officer Professor Anthony Cahalan.
"We're approached by employers all the time to give employment to our IT graduates. So if you're interested in IT, design, website, multimedia, software, computer science, these are all things that Swinburne is really well known for. This is our area of expertise – science, technology and innovation. ICT sits right in the technology and innovation area."
He congratulated the schools and teachers for their support. A total of nine teams, comprising two students in each team, from two schools took part in the competition. They were SMK St Joseph and SMK DPHA Gapor.
The competition was held following a two-day workshop the Form 5 students attended in February.
The prizes were sponsored by Kuching based software company, Pasti Nyala Sdn Bhd. Its systems manager, Richard Wellis Sinyem, represented the company at the prize giving ceremony.