St Joseph's Private School is debate champion
February 17, 2017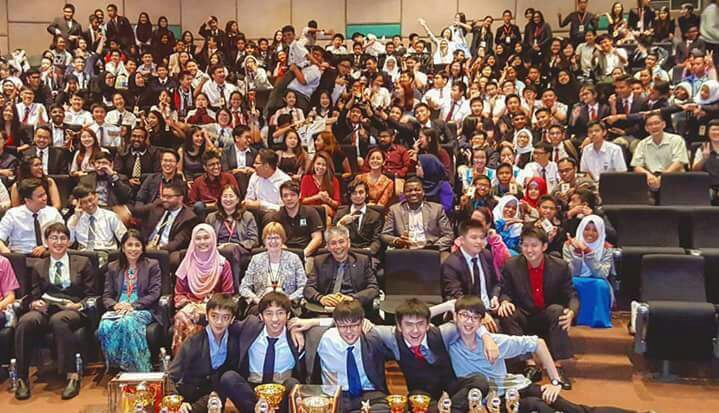 Debaters from St Joseph's Private School (front) with other participants and guests-of-honour after the awards presentation.
KUCHING – St Joseph's Private School took home the championship trophy after winning the final of the Swinburne University of Technology Sarawak Campus Inter-school Debating Championship, recently.
The team of Ian Dylan Chai Ee Ann, Joshua Paren Paul and Samuel Chan Han Wei from the Kuching school trounced Choo Chien Hwei, Gan Chern Xun and Isabelle Lee Ming Zhue of Kuala Lumpur's Chong Hwa Independent High School in front a capacity crowd at Swinburne Sarawak's lecture theatre.
The high school students debated on the motion, "This House believes that the federal government should not impose state and local taxes on online retailers."
The team from St Joseph's Private School also swept the Most Promising Senior Team, Most Improved Senior Team and Best Sarawakian Team awards.
The team's Joshua Paren Paul was named the Best Debater in the final round.
He was also awarded Third Best Debater while Ian Dylan Chai Ee Ann was awarded Fourth Best Debater.
Best Speaker of English went to Amanda Ngu Teng Teng from SMK St Teresa and Jacx Chan Ken Yew from SMK St Joseph.
Tied in first place, the two Overall Best Debaters in the preliminary rounds went to Dylan Ng Zhi Perng from Kolej Yayasan Saad Team S3 and Ryan Yap from St Joseph's Private School, Team S2.
The two finalist teams and two semi-finalists teams of SMK Damansara Jaya, Selangor, and Methodist Boys' Secondary School, Kuala Lumpur, were presented with the Swinburne Engagement Awards.
In the junior category, SMK Sri Permata of Selangor emerged champion after beating Malacca's Kolej Yayasan Saad over the motion, "This House believes that states should not allow its citizens to save or invest their money in offshore bank accounts."
Izanna Azuddin from the winning team was named Best Debater in the junior final.
Jordan Jong Ying Yuen from SMK St Joseph won the Best Speaker of English while Jaypeth Balang from St Joseph's Private School Team J1 emerged Overall Best Debater in the preliminary rounds.
The Second Best Debater was tied between Chiang Kah Vern from St Joseph's Private School J1,  Team C, Selangor, Siti Anastasia Binti Norbasha from Sri KDU and Valentine Querubin Hermanto from Senior High School Number 4 Pontianak, Indonesia.
Javier Sim Zhen Ee from SMK Chung Hua, Miri Team J3 took the Fifth Best Debater award.
The Most Promising Junior Team was the Sri KDU team of Chiang Kah Vern, Siti Anastasia Binti Norbasha and Kyra Iman Binti Kabir Subhash Bhatia.
Caleb Liaw Zhi Hong, Javier Sim Zhen Ee and Lily Awing Paul of SMK Chung Hua, Miri Team J3 proved to be the Most Improved Junior Team and the Best Sarawakian Team.
A total of 34 schools from Sarawak, Peninsular Malaysia and two from Indonesia competed from February 13 to 16, making it the largest group in the championship's 12-year history.
Organised by the Swinburne Sarawak Debater's Club and funded by the Faculty of Language and Communication with additional sponsorship from the Swinburne Sarawak Student Council.
Present at the finals were Noraine Jamil, assistant director of Language Unit representing State Education Department director Rakayah Madon, Swinburne Sarawak deputy vice-chancellor Professor Janet Gregory and academic director Professor Enn Ong.