Swinburne beats 43 competitors to win IET Best Paper Award at ICSCI 2019
October 30, 2019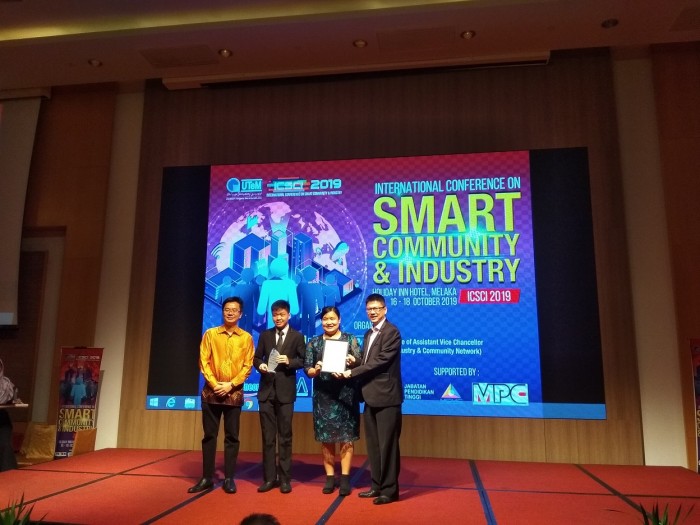 (L-R) Technical Chair Associate Professor Dr Kok Swee Leong, Ling, IET Malaysia Network Chairperson Professor Leong Wai Yie and Dr Chua.
KUCHING – A two-in-one industrial wastewater and air toxicity monitoring solution has won a team from Swinburne the IET (Institution of Engineering and Technology) Malaysia Best Paper Award at the recent International Conference on Smart Community & Industry (ICSCI) 2019.
Held at Holiday Inn Malacca, the ICSCI 2019 is a specialised conference that aims to provide a platform for academia and industry to share the advancement and know-hows of current trend of industrial transformation and its benefits to the communities and industries.

The winning team consists of two undergraduate students Peter Ling Ting Rang and Marcus Tan Lee Soon, and two project supervisors Dr Chua Hong Siang and Associate Professor Ng Sing Muk. Their paper titled 'Project Dragonfly' outshined 43 other submissions from various universities and companies.
Project Dragonfly that is environmentally friendly, non-invasive and cost effective is a boon towards regulation of industrial emissions. Access to otherwise inaccessible areas such as the middle course of a river and areas above chimneys of great heights, would be made possible by using drones.
Project Dragonfly is an excellent example of Internet of Things (IoT) solution that also features a dedicated server and mobile application in addition to hardware. Primarily to the regulatory authority, governing body and scientific institutions, environmental monitoring can be performed systematically and periodically with minimal effort by humans.
The project has won other awards and recognitions in the past namely gold award in InTEX 2019, 2nd runner-up in Innovate Malaysia Microsoft Track, 1st runner-up in Innovate Sarawak SAINS Design Challenge, and grand finalist in MDEC Digital Tech Awards.
The team hopes their achievement will inspire more IoT monitoring projects that will contribute to the advancement of environmental monitoring works in Malaysia. More information about the project is available at www.projectdragonfly.tk.
The conference was organised by Universiti Teknikal Malaysia Melaka (UTeM) and jointly organised by Melaka State Government, Infineon Technologies, Malaysia Investment Development Authority (MIDA), and the Institution of Engineering and Technology (IET) Malaysia Network.
Swinburne is a reputable Australian university with campuses across Melbourne and Sarawak. It offers accredited courses at pre-university (foundation), undergraduate and postgraduate levels in business, design, engineering, computing and science.
The course curriculum taught and assessments conducted are equivalent and aligned to identical learning outcomes offered at the Melbourne campus. As a result, graduates are awarded the same Australian qualification that allows for broader recognition and better employment opportunities around the world.
For more information about Swinburne, visit its website www.swinburne.edu.my, Facebook page (@swinburnesarawak), Instagram (@swinburnesarawak), Twitter page (@Swinburne_Swk) or YouTube channel (Swinburne Sarawak).