Swinburne Sarawak student to represent Asia Pacific region in Present Around the World
June 13, 2018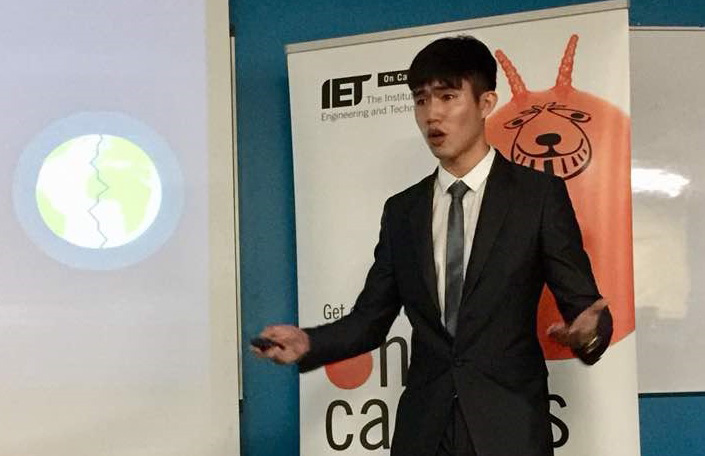 Tan addressing the crowd with the topic 'Organic solar cells'.
KUCHING – After successfully competing at the national finals of 'Present Around The World' (PATW), Swinburne Sarawak's mechanical engineering student Christopher Tan Aik Wei will move on to compete in the Asia Pacific Regional Finals in Singapore this August.
Present Around The World is a global competition for young professionals and students aged 18 to 30 within the field of engineering to develop and showcase their presentation skills. The competition requires the participants to deliver a 10-minute presentation on any engineering or technology related area with the objectives to enhance their knowledge, develop their presentation skills and increase their profile.
At the national finals held at Taylor's University Lakeside Campus in Kuala Lumpur, 23-year old Tan impressed the panel of judges with his presentation on 'Organic solar cells'. Tan spoke on its potentials as a promising technology that can generate green and sustainable source of energy, and made comparisons to other solar cells. As the technology is not widely known in Malaysia yet, Tan's presentation aimed to introduce organic solar cells to non-technical audience, encourage research of its kind in the country and explain his final-year research project on a similar topic.
Tan's entry into the regional finals is somewhat a redemption for himself as he failed to win at the national finals last year.
"I'm grateful for winning this round on my second attempt. I feel that the most challenging part about this competition is the Q&A session. Therefore, having gone through this experience, I hope to be more well prepared for the Q&A session in the next competition," said Tan, who aims to attend the Global Finals in London.
Although he finds it tough to juggle between completing his final-year research project and practicing for PATW, he believes early preparation is the key to success. Tan thanked Swinburne Sarawak and The Institution of Engineering and Technology (IET) for providing him the opportunity to showcase his presentation skills, particularly senior lecturer from School of Foundation Studies Christina Yin who helped him to rehearse and prepare for the competition.
Tan wishes to follow the footsteps of fellow Swinburne Sarawak student Peter Ling Ting Rang, winner of the PATW 2015 Asia Pacific Regional Finals. Ling won the regional level competition held at Tsinghua University in Beijing which qualified him for the finals in London. Ling, the first Malaysian to win at the Asia Pacific stage, represented Malaysia, Brunei, Singapore, Australia, New Zealand, China, Hong Kong and Taiwan to face finalists from Africa, Europe, Middle East, South Asia, the United Kingdom and the United States.
For more information about Swinburne Sarawak, visit the university's website (www.swinburne.edu.my), Facebook page (@swinburnesarawak), Instagram (@swinburnesarawak), Twitter page (@Swinburne_Swk) or YouTube channel (Swinburne Sarawak).