Swinburne and SEDC Energy sign hydrogen research collaboration agreement
January 18, 2021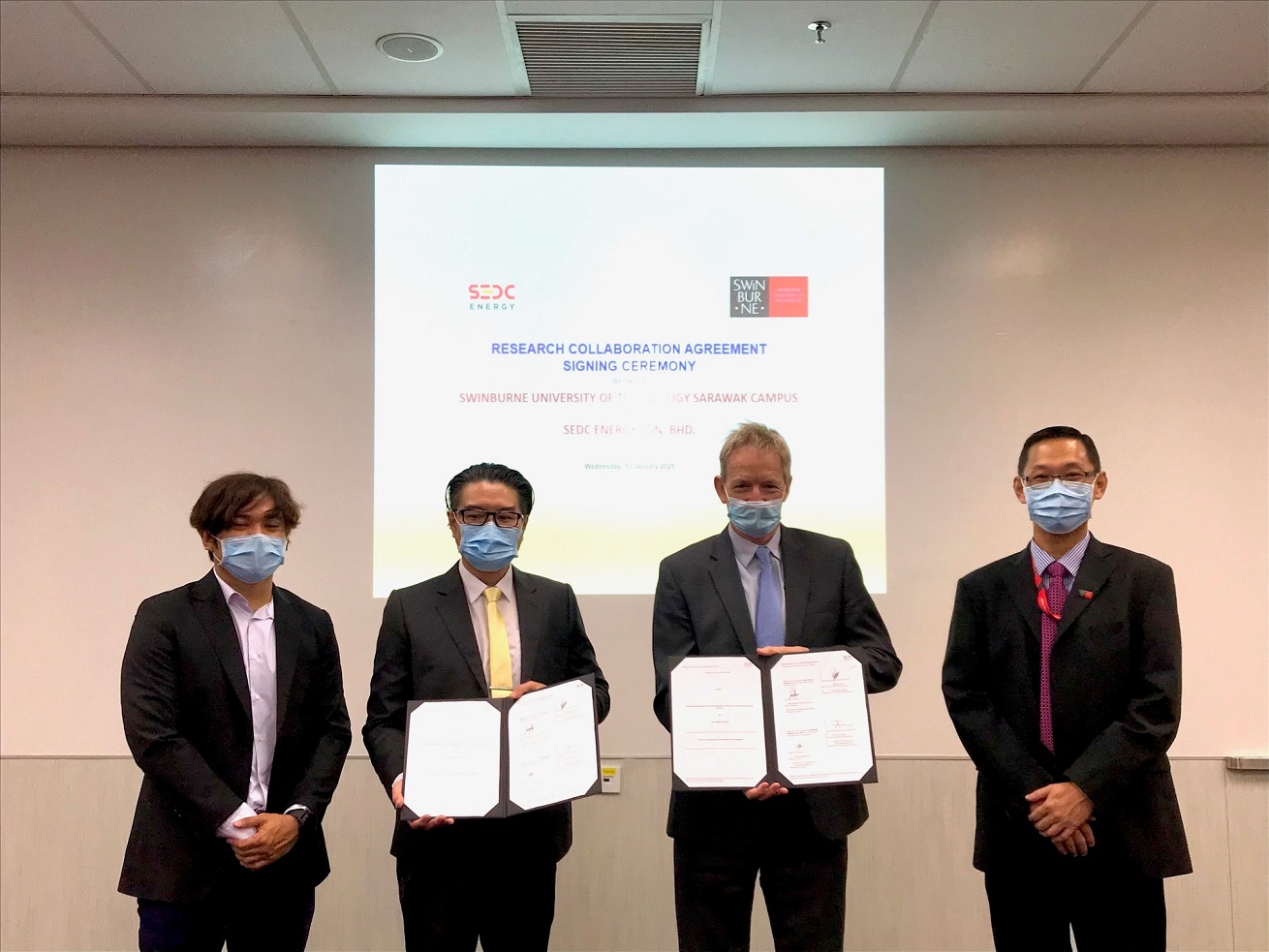 (L – R) Mohd Faizal, Robert, Professor Wilson and Professor Su at the signing ceremony.
KUCHING – Swinburne and SEDC Energy have entered into a research collaboration agreement to kick-start a three-month techno-economic feasibility study for the development of hydrogen production plant in Kuching.
At a signing ceremony held recently at Swinburne's Sarawak campus, the agreement was signed by Deputy Vice‐Chancellor and Chief Executive Officer of Swinburne Professor John Wilson, and Chief Executive Officer of SEDC Energy Robert Hardin. Present to witness the signing were Swinburne's Dean of Faculty of Engineering, Computing and Science Professor Su Hieng Tiong representing Director of School of Research Associate Professor Ts. Lau Bee Theng, and SEDC Energy's Head of Project Delivery & Technology Mohd Faizal bin Mohammad Amin.
Recognising the urgent need to shift towards green economy by embracing hydrogen's role as clean energy carrier, the Sarawak State government through Sarawak Economic Development Corporation (SEDC) has taken the ambitious step to introduce the first hydrogen fuel cell buses, vehicles, and integrated hydrogen production, storage, and refuelling station in South East Asia.
As a close partner of the State government, Swinburne through its Research Centre for Sustainable Technologies (CST), and Business and Social Innovation Centre (BSIC) initiated the opportunity to work together with SEDC Energy on their hydrogen economy agenda.
The research project is led by Director of Research Centre for Sustainable Technologies Associate Professor Jaka Sunarso and chemical engineering lecturer Dr How Bing Shen. Also on board as researchers are Director of Business and Social Innovation Centre Dr George Ngui Kwang Sing, and chemical engineering lecturers Dr Chew Jiuan Jing and Dr Siti Salwa Hashim.
In his opening speech, Professor Wilson applauded the Sarawak government's effort in championing clean hydrogen energy future, adding that it's an exciting development for the State. Being a State that enjoys regular rainfall annually, it's advantageous to the State to tap into the potential and abundance of rain water to generate clean energy.
"Swinburne is delighted to be working with SEDC Energy on this project. We have a pool of great expertise, for example, Associate Professor Jaka, whose research track record focuses on sustainable energy delivery that includes batteries, fuel cells, membranes, and hydrogen related technologies. We also have Dr How whose research interests include energy planning and carbon management, as well as our other colleagues who are experts in their respective fields," Professor Wilson said.
Meanwhile, Robert remarked that many countries around the world are on a mission to reduce carbon emission in their effort to protect the environment. He said realising this, Sarawak Chief Minister Datuk Patinggi Abang Johari Tun Openg decided that Sarawak must drive the initiative in pursuing hydrogen economy.
"Not only is Sarawak blessed with abundance of water but we also have plenty of existing hydropower dams. We have invested significantly into building these dams and therefore, we want to add value to these investments by developing the fuel cell and hydrogen economy for domestic demand," Robert said, adding that this will be the beginning of a long collaboration with Swinburne.
For more information about Swinburne, visit its website www.swinburne.edu.my, Facebook page (@swinburnesarawak), Instagram (@swinburnesarawak), Twitter page (@Swinburne_Swk) or YouTube channel (Swinburne Sarawak).