Thousands attend Swinburne's graduation ceremony at BCCK
October 23, 2019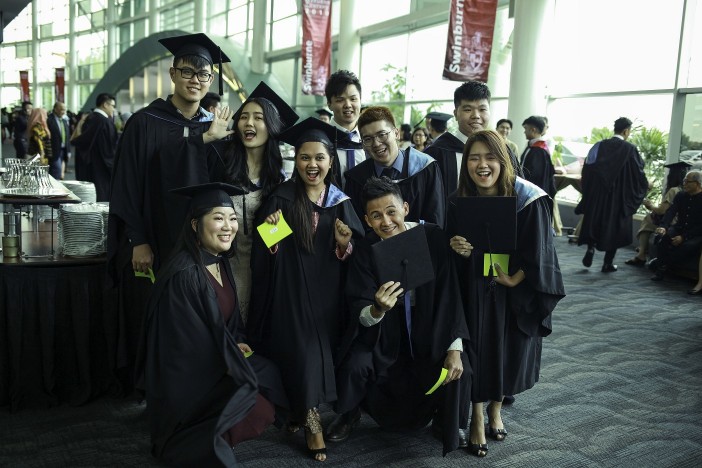 A group of proud graduates who were among the 314 to receive their scrolls.
KUCHING – Thousands of family members and friends came to show their support for 314 Swinburne graduates at the Australian university's graduation ceremony held at Borneo Convention Centre Kuching (BCCK) yesterday.
For Bachelor of Engineering (Mechanical) (Honours) graduate Edwin Thou Mun Chuen, it is a great privilege to be selected as a Student Response to give a farewell statement on behalf of his fellow graduates.
"Swinburne has greatly shaped me into who I am today although the journey has not always been easy. Throughout my university journey, I've learned from passionate lecturers who have sparked my interest in acquiring various skills and participated in the International Student Exchange programme in Melbourne that has helped broaden my horizons."
"I also joined academic clubs such as Swinburne Sarawak Institution of Engineering and Technology (SSIET) which provided me the opportunity to collaborate with others and pick up important soft skills along the way. I am excited to apply and further hone my skills and knowledge, and hope to use my passion to give back to others in a meaningful way," said Thou.

The awards to the graduates were presented by Pro Chancellor of Swinburne Sarawak and Chief Minister of Sarawak The Right Honourable Datuk Patinggi (Dr) Abang Haji Abdul Rahman Zohari Bin Tun Datuk Abang Haji Openg, and Vice-Chancellor of Swinburne University of Technology Professor Linda Kristjanson AO.
The ceremony commenced with the conferment of awards to 137 undergraduate students from the Bachelor of Business in Accounting; Accounting and Finance; Finance; Human Resource Management; International Business; Management; and Marketing programmes, as well as Bachelor of Design in Multimedia Design programme.
This was followed by conferment to 159 students from the Bachelor of Engineering (Honours) in Civil; Electrical and Electronic; Mechanical; Robotics and Mechatronics; and Chemical engineering programmes, as well as Bachelor of Science (Biotechnology), Bachelor of Information and Communication Technology, and Bachelor of Computer Science programmes.  
The presentation resumed with award conferment to eight Master graduates from the Master of Business Administration (International), Master of Science (Research), and Master of Business (Research) programmes.
Rounding up the graduates are 10 Doctor of Philosophy award recipients in engineering, science and business programmes. They are Baig Aysha Karamat, Choudhury Bismita, Brian Loh Chung Shiong, Khew Choy Yuen, Edwin Sia Sien Aun, Fredrik Phangkawira, Lai Jia Jiun, Mark Tee Kit Tsun, Nastassia binti Denis, and Reagan Entigu Linton @ Jerah.
This brings the total of PhD graduates at Swinburne Sarawak to 42 with the first cohort graduating in 2012.
Student with special needs Leong Man Tik overcame a tough time in university despite being diagnosed in 2016 with focal dystonia, a neurological condition also known as writer's cramp. The condition limits the Bachelor of Business (International Business) graduate's ability to write as his left hand (dominant hand) would occasionally shivers uncontrollably.
"After completing my secondary school, I took a half-year vacation and practiced writing with my right hand. When I commenced my study at Swinburne, I still struggled with writing but have improved over time. I'm thankful to Swinburne's Student Development and Support unit for assisting in the arrangement of extra time during my examinations to cope with my writing difficulties," remarked Leong who will be leaving soon for Singapore to work.
The group of graduates comprise Malaysian students and students from all over the world including Afghanistan, Bangladesh, Egypt, India, Indonesia, Kenya, Mauritius, Nigeria, Oman, Pakistan, South Korea, Sri Lanka, and Vietnam.

Swinburne University of Technology Sarawak Campus is the only international branch campus of Swinburne University of Technology based in Melbourne, Australia. The Sarawak campus offers a range of industry-applicable courses such as business, computing, design, engineering and science at pre-university (foundation), diploma, degree, masters and PhD levels.
The course curriculum taught and assessments conducted are equivalent and aligned to identical learning outcomes offered at the Melbourne campus. For students interested in gaining exposure abroad, they can transfer or go on an exchange programme to the Melbourne campus or partner institution in Germany.
Currently ranked in JobStreet.com Top 10 Preferred Private University in Malaysia, Swinburne's overall Graduate Employability Rate is approximately 92%. Swinburne's graduates work for prestigious, international businesses such as KPMG, EY, Shell, PETRONAS, Intel, IBM, Facebook, Google, Pfizer and other multinational corporations.