Graduation is an exciting milestone. But it also marks the beginning of a daunting chapter in one's life.
From repayment of student loans to embarking on future careers, the transition can be overwhelming. We spoke to two graduates to gain insights into their thoughts and feelings as they graduate.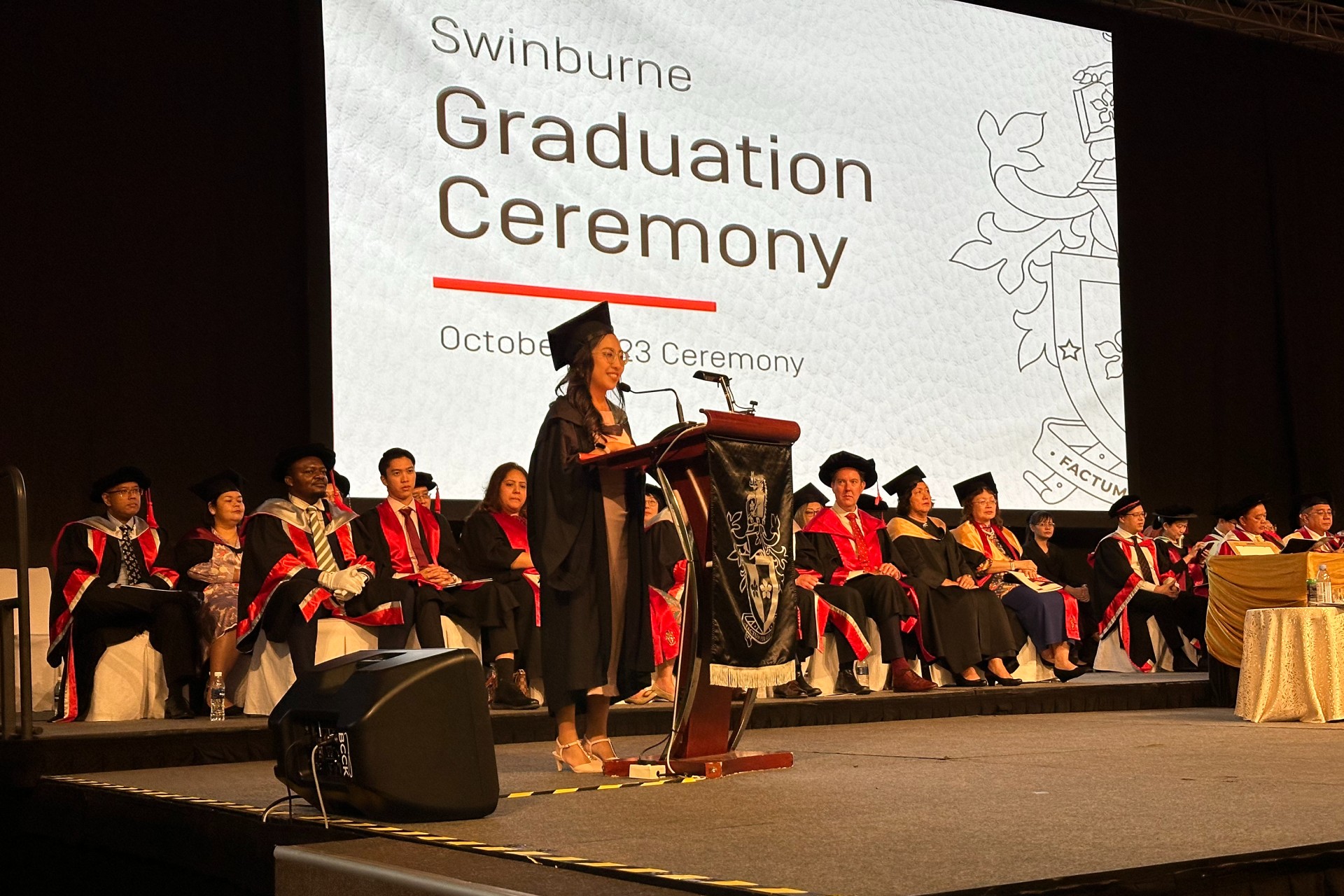 You Did It!

"I'm happy because I did it!" said Khaleeqa Naazira Binti Haleman. Affectionately called Khal, the Marketing graduate is excited about finally realising her dream of becoming a Swinburne graduate. 

However, Khal admitted to having mixed emotions, saying "I'm sad because a new chapter of adulting begins." She revealed that she still felt like a 'baby.' 
A mixture of happiness and apprehension is common among those who just graduated. Nonetheless, Swinburne Sarawak's supportive environment makes students and staff, feel like one big family.  
This feeling of unity in a diverse university comes from the university offering its community ample facilities for both learning and leisure. This includes the opportunity for students to start a student club of their own. Study-wise, students have access to 24-hour computer labs, a fully equipped library, and an exclusive student-only hub. 
For Joanna Permy Ngumbang anak Jerry Ling (Jo), graduation is a momentous achievement. She described graduating as a moment of "pride and validation of all the hard work, late-night study sessions, and sacrifices made along the way." 
However, Jo also admitted to having bittersweet feelings about graduation. "Graduating marks the end of an era since I now am transitioning into the unfamiliar real world," she confided.  
Graduating brings a sense of accomplishment, pride, and relief. "But it's also a reminder of uncertainties and changes to come," she reflected. 


But Why Swinburne?

Jo was attracted to the diversity of the Australian branch campus. "Not only was I assured of an education that combines theory with real-world experience, but I was also looking for affordability in terms of an Australian education." She also appreciates the diverse perspectives offered by the university's international community.  
For Khal, it was the promise of new friendships that led her to choose Swinburne Sarawak.  
She shared how her friends, already students at the university, told her how they always have the study support they need. "Or, I will always have transport to and from campus since they drive too," she added with a laugh. 
Khal confirmed that her friends' advice was spot on. Their presence provided invaluable support to her during her time at Swinburne.  


Real Real-World Education

For Jo, she appreciated the balance of theory and hands-on learning that her degree offered. The HR graduate was especially excited about the many practical learning opportunities that her degree offers students.  

"These experiences gave me a strong foundation in human resources. It covers topics from recruitment to compensation, as well as legal and ethical aspects of human resources among others," she shared, further explaining that her degree prepares her for diverse roles in the HR profession.  


Study? Work? Or Both?

To keep herself on top of her studies, Khal, who worked part-time while studying, kept an e-journal to stay organised. It also ensures she does not let anything slip her attention as she juggles work and study.  

"It was a struggle to juggle between work and studies but look at me now – I've graduated!" she exclaimed.  
Jo agreed, emphasising the importance of setting priorities and creating a clear schedule, all while getting the support she needs from family, friends, and lecturers. 
Jo's ambition to achieve financial independence also motivated her throughout her years at Swinburne Sarawak. She could not emphasise enough the importance of the right study strategy, and a resilient mindset to successfully balance study and work.  


Challenges to Overcome
Though university life is tough at times, Jo reminded students that they're never alone and that they should not be too hard on themselves. 
"Failure in itself is a learning process," she said, noting that setbacks are opportunities for growth and improvement. She advised students not to give up and to continue believing in themselves. 
For Khal, she admits it is normal to face academic challenges and recommends that when the going gets tough, to take a step back, reset your goals, and find ways to express and address one's emotions. 
"Give studying at Swinburne Sarawak your best," she added. You'll never know where your next adventure will be, said the marketing major who will step into the professional world by the end of the year.


Careful Planning for the Year Ahead
Without a doubt, post-university life requires careful planning and stellar adaptability. Swinburne, with its 2025 moon shots, continues to be a supportive and student-centred education establishment, which serves as a solid foundation for students as they prepare to navigate the exciting yet uncertain paths ahead.  
So, to all Swinburne graduates, congratulations! You have certainly achieved something momentous in life.