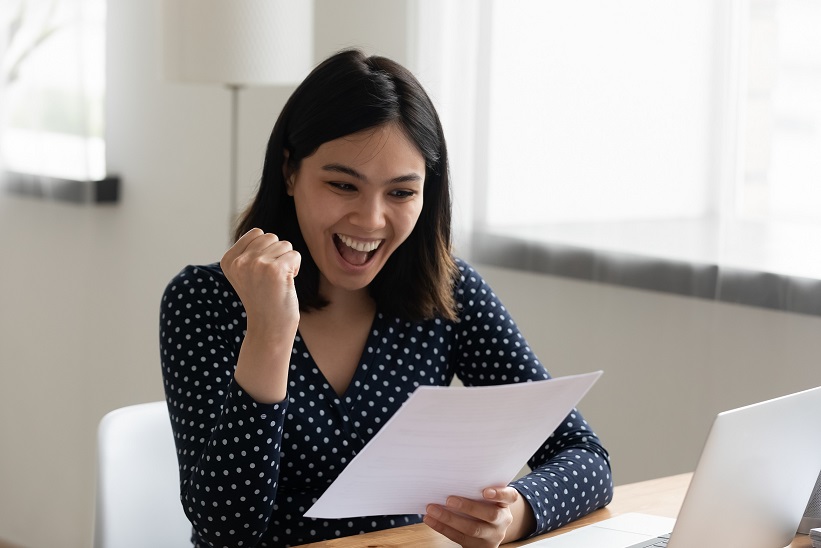 "How much is this all going to cost me?"
A common misconception about studying in a private university is that it is unaffordable. But guess what? A quality Australian education isn't as far-fetched as you might think when there are plenty of scholarships and bursaries out there just waiting for you to apply for them!
Being smart with your money and how you're applying for financial aid is the first step to your study goals (and saving your *cha-ching* while you're at it!).
At Swinburne, we believe that every student deserves the access to a great, quality education, so we want you to have that access to affordable fees. The good news is that as long as you find yourself answering "Yes" to any of these statements below, then hooray! Because that means you're on your way to qualifying for a scholarship or financial aid with us.
*Do note that these scholarships and financial aids are subject to T&Cs. All applications for enrolment into Swinburne Sarawak will be automatically assessed for eligibility to our range of scholarships and bursaries.
1) "DID YOU SCORE AT LEAST 5Cs IN YOUR SPM & YOU'RE LOOKING TO ENROL INTO FOUNDATION?"
What's available: Swinburne Sarawak Entrance Grant / Start With Zero Fees Program.
Congratulations, it's as easy as that! As long as you meet our programmes' entry requirements (FYI: It's 5Cs to enter our Foundation), and you've received an offer letter into our Foundation or Undergraduate course, you are automatically entitled to the Swinburne Sarawak Entrance Grant. This grant can range between RM2,000-RM4,000 depending on your programme.
With education moving online during the pandemic, our Start With Zero Fees Program enables you to pay nothing for the first 2 weeks of your study and gives you the opportunity to adapt and experience Swinburne's teaching and learning style.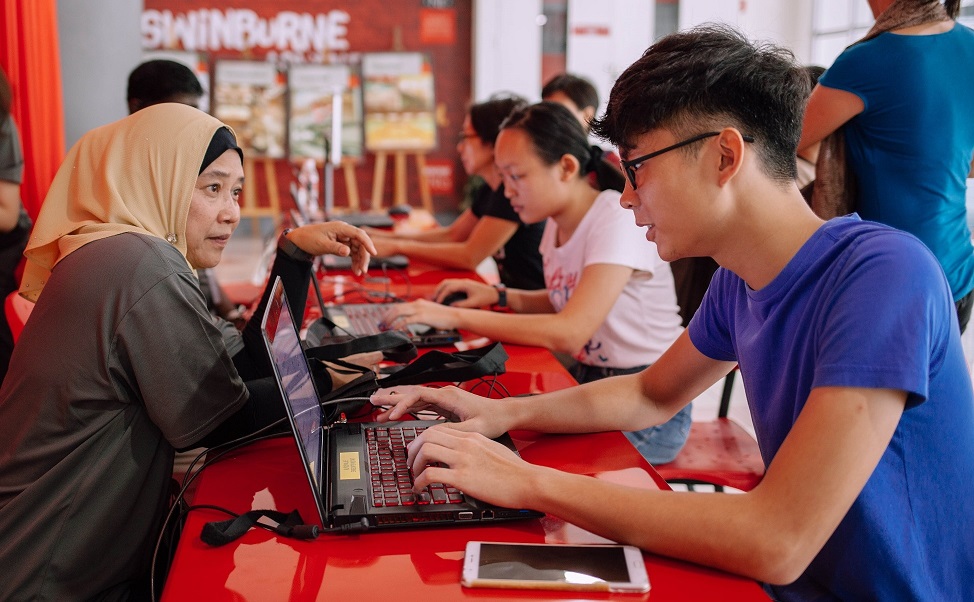 2) "DID YOU SCORE AT LEAST 3Cs IN YOUR SPM & YOU'RE LOOKING TO ENROL INTO DIPLOMA?"
What's available: Diploma Entrance Bursary / Diploma Pathway Bursary / Start With Zero Fees Program.
Swinburne's minimum entry requirement into our diploma is at least 3Cs in any SPM subject. So similar to the previous grant in #1, as long as you meet this requirement and have enrolled to our diploma, you can enjoy 15% off your annual tuition fee with the Diploma Entrance Bursary, and a further 15% off your first year of degree tuition fee with the Diploma Pathway Bursary should you progress to a Swinburne degree from your diploma.
As a new student, you will also be entitled to the Start With Zero Fees Program and pay nothing for the first 2 weeks of study.
3) "DID YOU SCORE AT LEAST 3As IN YOUR SPM?"
What's available: Deputy Vice-Chancellor's Academic Excellence Scholarship (Foundation). 
Generally, the better your grades, the higher the scholarship amount will be. Under the DVC Academic Excellence Scholarship (Foundation), awards range from RM3,000 to RM12,000 depending on your SPM or O-level results.
We also offer a similar DVC Academic Excellence Scholarship (Degree), for students who excel at their STPM or A-levels.
4) "WERE YOU ACTIVE IN SCHOOL CLUBS/EXTRA-CURRICULAR ACTIVITIES?"
What's available: Swinburne Youth Scholarship.
We love all-rounders, and we want to reward you for being uniquely that! If you were active in clubs or extra-curricular activities, or won competitions while you were in high school, you may be entitled to up to RM5,000 off your first year tuition fee.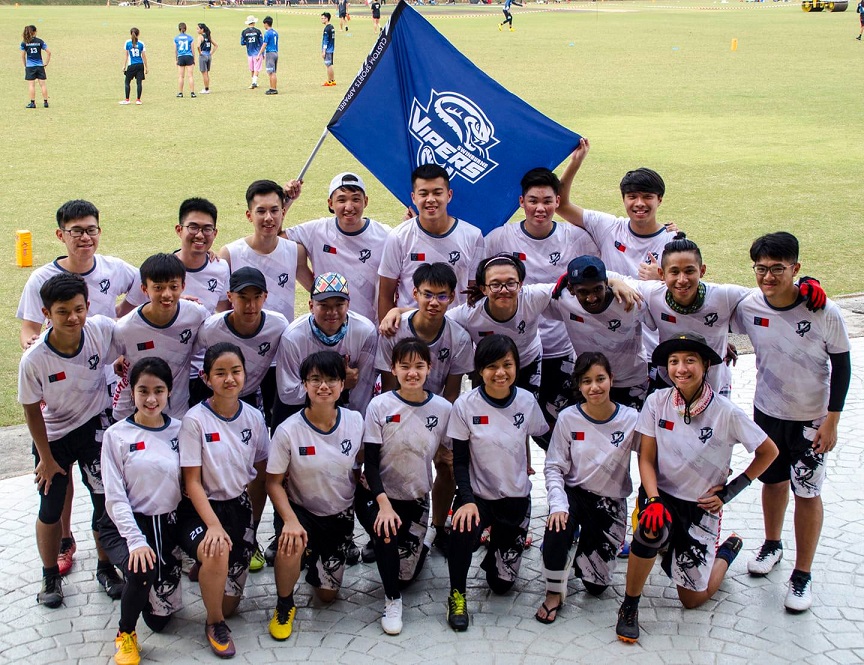 Photo courtesy of Swinburne Sarawak Ultimate Frisbee Club
5) "DID YOU ENROL INTO A STEM COURSE AT SWINBURNE?"
What's available: Emerging Technology Scholarship.
As a university of technology, we've got an extra special scholarship for all you STEM (Science, Technology, Engineering, Mathematics) scholars.
Our Emerging Technology Scholarship allows 15% off your first year Degree fee if you are a new student entering the following programmes:
Bachelor of Engineering (Honours) (Chemical)
Bachelor of Information and Communication Technology
Bachelor of Computer Science
Bachelor of Design (Multimedia Design)
Bachelor of Design
Bachelor of Science (Biotechnology)
Bachelor of Science (Environmental Science)
Bachelor of Media and Communication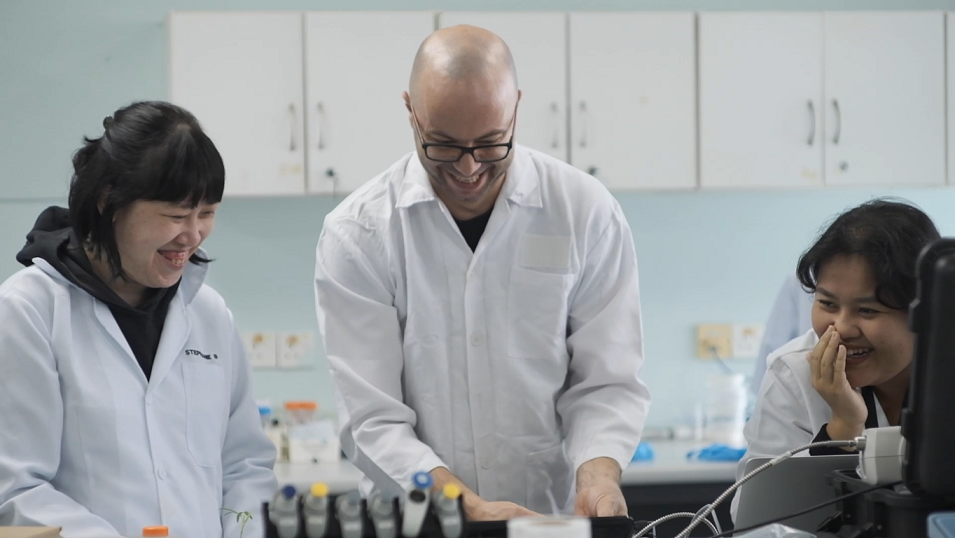 6) "ARE YOU A SARAWAKIAN BUMIPUTERA?"
What's available: Yayasan Sarawak Bumiputera BP40 Bursary Scheme.
An Australian Foundation course with fees as low as RM5,446? Who would have thought.
Studying at Swinburne can be as low as studying at a public university with the BP40 Bursary Scheme designed by Yayasan Sarawak to aid Sarawakian Bumiputera students. Students whose monthly household income is RM3,000 and below (B40) and RM6,275 and below (M40) are able to pursue their Foundation, Diploma, or Degree studies with tuition fee rebates, on top of applying for Yayasan Sarawak study loans to cover their remaining fees.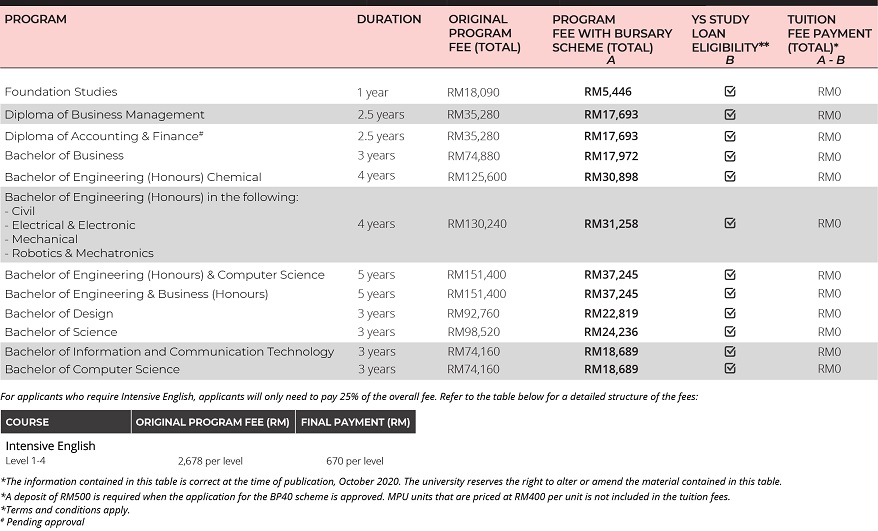 Yayasan Sarawak BP40 Bursary Scheme fees for Swinburne Sarawak programmes
7) "DID YOUR SIBLING STUDY AT SWINBURNE?"
What's available: Siblings Discount.
All siblings who are currently enrolled at Swinburne Sarawak, or sibling(s) of a Swinburne student/alumnus are entitled to 10% off your first year tuition fee.
8) "ARE YOU AN INTERNATIONAL STUDENT STARTING YOUR STUDIES ONLINE?"
What's available: Start At Home Program.
Affected by travel restrictions? Start studying online in your home country with zero fees for 4 trial weeks. Should you decide to continue studying beyond the trial period, enjoy a 20% fee reduction on any units completed online for one whole semester.
This offer is applicable for all Foundation, Diploma, Degree, and Masters programmes.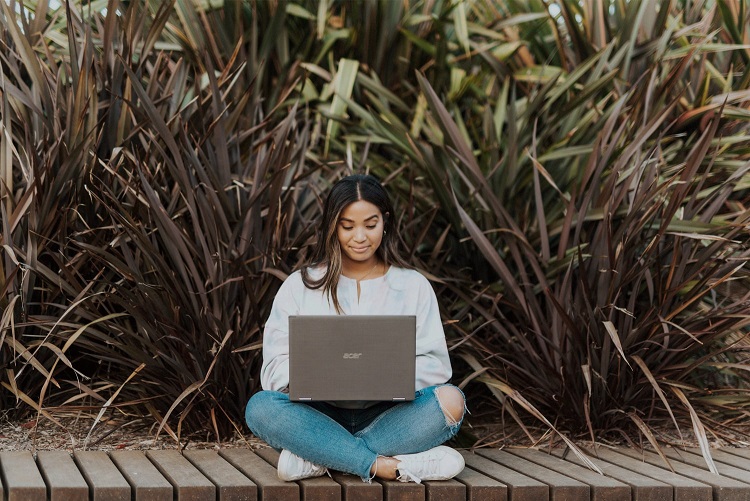 OTHER SOURCES OF FUNDING/EXTERNAL SCHOLARSHIPS
Needless to say we're only scratching the surface with the scholarships and bursaries listed. There are plenty of other grants, study loans, and external scholarships that meet all students' needs, just as long as you're willing to put in the steps of applying!
For more information on scholarships and financial aid available at Swinburne, visit our website at swinburne.edu.my/study/study-options/scholarships.php.
_____________________________________
With our 'Fast-Track Foundation', students who enrol into our June or July 2021 Foundation programme will be able to fast track to degree as soon as March 2022.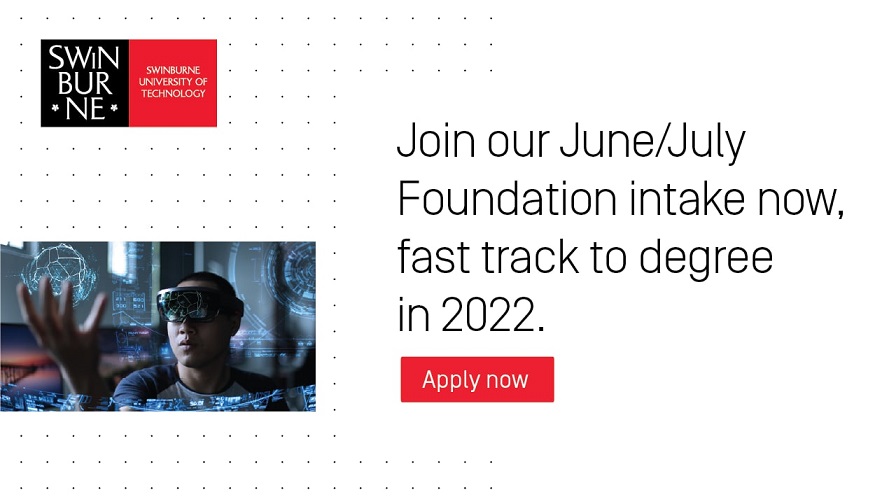 Take the chance to learn more about our courses and scholarships available when you book an appointment to speak to our course counsellors. We've extended our online counselling on demand from 25 to 27 June, 10am to 10pm (GMT +08:00). For more information, contact us via WhatsApp at +6019-8196353, live chat at tawk.to/swinburnesarawak, or email to study@swinburne.edu.my.