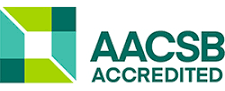 What is an AACSB accreditation?
AACSB International (AACSB) is a global nonprofit association that connects everyone from educators, to students and even businesses.
Being the main accrediting agency for undergraduate and postgraduate degree programs in business and accounting, getting accredited by AACSB can be a huge achievement for many business schools worldwide. In fact, about less than 5 percent of the world's business schools are AACSB accredited for their business programs and only less than 1 percent are AACSB accredited for both business and accounting programs which is why to be given such a recognition by AACSB International is very rewarding and important for many business schools.
Getting accredited by AACSB means our programs offered by the Swinburne Business School have gone through intense measures to ensure that our impact, dedication and commitment towards research and teaching have all been greatly recognized.
AACSB Accreditation requires schools to
Provide necessary teaching to students.
Have a faculty that's qualified and adequate to facilitate teaching between staff and students with their programs.
Be able to come up with research that ensures businesses to be advanced – this means students are well-equipped and are capable of handling challenges they will face in the real world.
Why should an AACSB Accreditation matter to you?
When it comes to choosing the right university for your future, remember that going to college is a big investment. With our AACSB-certified courses, we guarantee you that you will receive the best in business education here at Swinburne.
An overview on Swinburne as an AACSB-accredited school
We have worldwide recognition by top employers and various universities.
We have more access to recruiters.
Our graduates receive higher and more competitive salaries.
Employers are more likely to hire our graduates.
Being accredited means our business programs' quality is constantly improving.
Being accredited also means we hire and retain the best professors and researchers.
Our students are more international and are likely to achieve higher levels of education.
Our students graduate with high GPAs.
Our programs are challenging and teach the best skills you will ever need to apply to the real world.
Source: https://bestbizschools.aacsb.edu/aacsb-accredited/students
Our Business Programs
Browse through our various business programs to learn more about how you can pursue a career with our AACSB-accredited programs.