Student ID photo guideline
Your photo must be recent, clear, in colour, and unmodified by computer software.
Your photo must not contain other objects or people.
Your photo must be taken against a plain light coloured background.
Your photo must be at least 600 pixels wide and 750 pixels tall.
Your photo must be at least 50KB and no more than 15MB.
Your photo needs to be saved in either JPEG/JPG format.
Your Student ID card application will be delayed if your photos do not meet the rules.
In your photo you must:
be facing forwards and looking straight at the camera.
have a neutral expression with natural smile.
have your eyes open and visible.
not have hair covering your eyes.
not have a head covering (unless it's for religious reason) or hat/cap.
not have anything covering your face.
not wear sunglasses.
In the examples below, the one on the left shows the correct proportions. The image on the right shows incorrect proportions.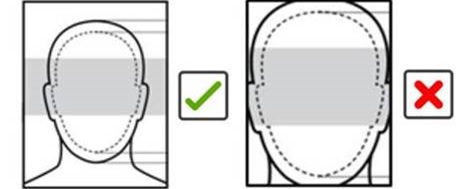 ** The uploaded photo will be used for making the student ID.
Cost of ID card
Student ID cards are issued to new students free of charge.
Replacement ID cards
The replacement cards can be issued at a cost of RM40. This fee can be waived if the student produces a police report showing that the card or wallet was stolen.
Lost or Stolen ID card
For lost ID cards
Student should notify the Library and SIC as soon as the loss is detected. Cardholders are, under library rules, responsible for any transaction made on their card up to the time of notification of the loss.
To have the lost ID card reissued, a replacement fee (RM40) will apply and you can pay for this on campus at Finance Counter. Once payment has been made, you will be issued a new student ID card.
For stolen ID cards
Student will be issued a replacement card at no cost upon presentation of a police report showing that the card or wallet was stolen.